"The power of imagination makes us infinite."
― 
Our Customers are our Success!
Founded in 1981 in a small warehouse in Costa Mesa, CA and built off a passion for enjoying the outdoors, California Patio started selling outdoor leisure products from industry leaders and began developing some of the best industry relationships, many of which still exist today.
Our passion is quality! Our drive is service! Our Company was built upon the principal of providing the best service to our customers regardless of what they buy. Our staff constantly goes above and beyond to ensure our customers are well taken care of. Add to that a total of over 6 decades of Leisure & Outdoor product experience from retail to manufacturing and you can understand our passion for legendary service to our customers! You will be delighted with the knowledge, professionalism & genuine caring they display every day. Our Outdoor spaces are extensions of our own styles and we carry the best in the business.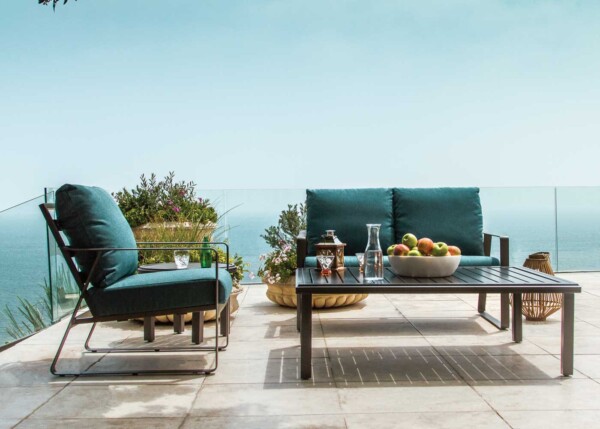 REDEFINING VALUE
What does value mean to you? Is it price, service or convenience? Big Box stores may appear to offer the lowest prices on seemingly the same products as many traditional retail outlets but are you really getting a good deal? Is price always a determining factor of value? It may look great in the store, but is it exactly what you wanted? That $250.00 dining set may seem like a good deal until the first rain or wind storm and then you're fishing pieces out of your neighbor's tree and wondering how you can get the furniture repaired.
 Most Big Box and Home Improvement Centers typically will not accept the the merchandise back, leaving you with outdoor furniture that will more than likely last you 1-2 years due to poor quality, fading of the fabrics and finishes or rusting of the structure. Big Box stores stock only very limited colors, fabrics and styles. Delivery, setup and disposal of packaging and old furniture is your responsibility as are any warranty claims that may arise. Where is the value proposition in that?
REDEFINING SERVICE
Casual Furniture Retailers offer service on a whole new level as opposed to big box & home improvement stores. When you shop with us, you get friendly, knowledgeable staff who is well versed in the products they sell. We can offer you virtually endless possibilities of colors, fabrics and styles, all chosen by you. You can sit, touch and probe the merchandise and feel the difference in quality. When it comes to delivery, we offer white glove delivery and setup with trash removal. Your furniture will look just as you designed it and will last years.
 Many of the manufacturers we offer, carry the best warranties in the industry, ranging from 3-20 year limited warranty against defects for residential consumers on frames, finishes and vinyl strapping. With a warranty like this, it is evident that the furniture is designed to stand the test of time. Couple this by our unparalleled dedication to serving you,  the customer and welcoming you to the California Patio Family!
Don't take our word, See what our customers are saying…
We needed a certain size for our ocean view deck. Keith got out his measuring tape and went to work to help us choose a manufacturer that fit our

...

needs. He did not try to sell us anything, just gave us solid information based on our needs. After arriving home we rechecked the measurements and called Keith for the over the phone purchase. Delivery by CP truck and set up by driver Jorge was excellent. Jorge bolted the sections together and explained the cushion Velcro's system. We are very happy with our CP purchase.

read more
they ha what i was looking for at a fair price and were able to deliver the next day
Great showroom with a perfect smaller scale patio set in my budget. Keith was more than helpful. I highly recommend their products and service.

...

Thanks!

read more
Great service and product selection. Would definitely purchase from there again.
Excellent choice of furnishings and high quality grills. Customer service was attentive, knowlegable and friendly. Great value for the quality!
The sales person was very knowledgeable about the product. She listened to my questions and was able to quickly locate the chairs I needed for my

...

backyard.

read more
We had such a great experience at California Patio in La Quinta with Thomas. He was helpful when we needed assistance and left us on our own when

...

we needed time to think. The outdoor furniture is perfect for us!

read more
Great customer service! Very knowledge, friendly, and helpful!
Service was excellent from ordering to delivery. The delivery gilets new I had something to get to and came early. Thank you
I got my Patio furniture from California Patio 18 years ago and am just now having to reupholster the chairs. The staff is helpful, friendly, great

...

communication skills and were at my house when they said they would be here. I highly recommend California Patio. They have a customer for life with me.

read more
The delivery men were great and very helpful.
Staff was so helpful! Love my merch that i bought
Jose and Linda have been so caring and understanding! They made it seamless to help me and what my needs are. Refined customer service is

...

apparent! From outdoor Heaters to the biggest baddest BBQ pit ever!!! Thank you!!

read more
Great customer service. Pressure free and informative.
Viviana helped us so many times to make our purchase.
California Patio never disappoints. All furniture and supplies are high quality.
We love this place! It is always a great experience even when we are just looking around. We are furnishing our backyard remodel with their products.

...

Jacqueline has been so helpful answering any questions we have because she is so knowledgeable about CP products. CP has quality products. Great value for what you pay.

read more
Great service and great people and products
Excellent service, very helpful
I have purchased from California Patio for years. Needed a new umbrella and stand and was happy that they had it in stock. Always very kind and

...

helpful. I highly recommended them.

read more
Great store, Great selection, Great staff.
We purchased outdoor furniture three years ago at California Patio that we are very pleased with. I wanted to purchase a rolling base for our

...

umbrella. The process was so quick and easy.Rosemarie, the salesperson was able to look up our previous order to match colors to know what we needed. The purchase and delivery was a smooth process.Excellent customer care. KBF

read more
I was treated with such kindness and respect in my search for the perfect umbrella! They made it fun and easy!
Fantastic customer service!
Courteous, Professional, and extremely knowledgeable of all of the product lines! My sales person Jacquelyn played a key roll in directing me on what

...

choices to make! She was right in my patio furniture looks amazing!!!

read more
The team was great and very helpful!
Nice selection and pricing. No high pressure sales. Quick delivery and professionalism. Will definitely return.
I sure got a great salesman that was way helpful. You end up wanting to buy from them because of his help.
California Patio always has what I'm looking for in stock and ready. Staff is always very nice and helpful.
Shopping for patio furniture at California Patio in Rancho Mirage was a pleasure. Keith found us items in stock, without the 4 to 6 month wait we

...

encountered at other stores. Delivery was on time, and the guys were careful and thorough. Thank you so much!

read more
Thomas is so knowledgeable and attentive! He's a pleasure to work with.
The best experience I bought from these guys quite a few times highly recommend
A great selection with wonderful staff. Provided solid information to consider to make our decision. The delivery staff were fantastic as

...

well...smiling even after they carried the five pieces of furniture up our steep very long driveway to discover there was another steep incline with steps to get our new furniture to their resting spot! Couldn't be happier!

read more
I bought a two person slider from CA Patio which was getting delivered today. The truck showed up at my house and it was the wrong item. My chair

...

was not on the truck. Within a half hour someone from CA Patio called me, apologized and told me that my chair would be delivered today. A couple hours later someone from CA Patio showed up in their personal truck and delivered my chair. They went above and beyond and not only do I have a great chair, but they provided the best service I have had in a long time. So I absolutely recommend CA Pation, not only do they have great outdoor furniture, they also provide awesome customer service. I would give them more than 5 stars if I could.

read more
Excellent Customer Service and Follow Up
Just what we were looking for our Outdoor area, friendly and easy to shop and purchase.
I was convinced to believe this company is real and fast on payment.
You can verify yourself.
MICHELLE MIDRED is truly Legit.
I wish I have

...

known this platform long ago.
My fear for online Investments was proven wrong by this company, After my first withdrawal went successfully. I have been earning without any demand or stress ever since I Registered here. This is a reputable crypto Investment Platform to invest in, You can contact her to earn... Michellemidred@gmail.com
WhatsApp: +1(910)227-4380

read more
Vivian was very professional and knowledgeable…I bought the item I needed and was out the door in a few minutes!
Viviana was so knowledgeable and patient with me! Her customer service was 10/10! They even pricematched the heater I wanted (Bromic - just love it).
Excellent staff, well knowledgeable.Price was great
Excellent service! Amazing products at fair pricing. I would not go anywhere else!
This is the best place to get your outdoor patio furniture! Rosemarie knows the product and has excellent customer service skills. She will remember

...

your name after she meets you along with everyone you know who bought furniture at the store along with what they bought. The quality is top notch. I have Scheurman's Disease, a spinal deformity, and I can sit on their furniture for hours without it hurting my back. The delivery team is also very professional and punctual. You will pay a bit more than what you would pay at other places but you get what you pay for! Good quality furniture, excellent customer service, terrific delivery people, and no headaches. If you go to one of the cheaper furniture places like I regrettably did with some items, be prepared for headaches. You will not experience that with California Patio.

read more
Great shopping there. The young man was very knowledgeable and helpful.
Excellent processes and local team
Aleta was super helpful and When my furniture was delayed as everybody's is, they contacted me to keep me updated
Extremely helpful team! Helped me customize my order. Rosemarie was excellent at following up with me!
Total satisfactory experience and customer service
They had what I wanted in stock and provided great service.
Great place!! Lot's of selection and inventory in-stock. They explained the difference between the various brands and options so we could make an

...

informed decision. Highly recommend.

read more
Always friendly and helpful! Will continue to support this store.
Great customer service!! Jacquelyn and Austin were awesome!! I will definitely be back!!
2 years ago, i bought chairs and a coffee table here. At the same time, i bought a dining table from Dixieline (was cheaper). today, the dining

...

table from DL is falling apart, and the coffee table from Ca Patio looks brand new still! i went back and bought a new dining table that matches the coffee table. I thought i was "saving" money buying the cheaper one from DL... that money is gone, and i have to pay to trash it 2 years later. CA Patio furniture lasts, and is WORTH the extra cost!

read more
Great quality and selection. Linda was very helpful and followed up promptly with the information requested.
Needed furniture for the backyard around the pool. Reasonably priced, good selection of items to fit our needs.
Great selection and the staff really goes over and above to assure you get what you want.
Awesome selection and great service, especially from the delivery crew!
I bought an umbrella from them last summer and the service and umbrella was so good, I just bought another one. Jose was so helpful from purchase to

...

setting up delivery. George and Miguel who delivered the umbrella today went above and beyond to help me. I highly recommend this California Patio store (Dean Martin Dr. Las Vegas location)

read more
We are long time customers of California Patio and have always found the staff very friendly and knowledgeable. Our patio furniture still looks

...

great due to the quality and keeping it clean regularly. We would highly recommend this store, great selection, unique products and great service.

read more
So happy we did not have to purchase an entire setJust needed a sofaFound the perfect one!
What a great experience working with California Patio and I highly recommend. The staff is friendly and knowledgeable in addition to providing great

...

recommendations. The showroom is the best I've seen with hundred of options to choose. If your looking for outdoor decor and essentials with reasonable pricing this will be your one stop shop.

read more
California Patio went out of their way to find exactly what I needed in a replacement table. They don't make many 60 inch square but They were able

...

to locate one that matched my furniture.

read more
Austin was very knowledgeable and helpful!
salesperson was polite knowledgeable and efficient in getting us the information we requested about the item we ultimately bought
Love their chair cushions and their service! Thanks for the teamwork!
The associate was knowledgeable, pleasant and helpful.
Shawn was terrific to work with. We couldn't be happier with our purchase experience. I trust the delivery will be the same
We really enjoyed our experience with California Patio. We've purchased items from them before and went back for a patio table. We had the same

...

positive experience again! We appreciate their knowledge of what items are available and what we can actually get fairly quickly. We were able to purchase a table on Saturday and have it delivered today. Thomas was our sales rep and his insight on the many products out there helped us make an informed decision. We'd recommend them without reservation!

read more
Friendly, truly quality products!We purchased quality patio furniture about 10 years ago and it's been in the sun, uncovered all that time. (San

...

Diego)It looks great!! Not one wicker piece has broken, the pillows have held up well and we could not be happier that we invested up front to purchase from California Patio!

read more
These guys give excellent customer service. I've used them for new cushions, a fire pit, and will order some new patio furniture from them.
Great experience. Want to call out Tupac who helped us extensively.
Knowledgeable, friendly help. Long lead time disappointing.
I called to order new cushions for my outside patio 3 sectional couch. 1st after 10 years of the furniture being outside by the ocean…. It looks

...

great and has held up. The wicker on the base hasn't cracked, separated nor lost any color from the sun. Nina was very responsive in getting me new cushions. I had washed the cushions many times during 10 years… and finally needed new covers. Best patio furniture I've ever bought. NINA communicated, was amiable and answered all of my questions. Efficient!Brooke

read more
Great customer service! Had broken umbrella that needed to be repaired. Representative was able to pickup and order part replacement. Very

...

attentive and accommodating to help resolve the issue. Thank you so much!

read more
Very professional staff! :-)
They were very professional and have a great selection of patio furniture Their umbrellas are made of 100% Sunbrella fabric so will last a long tome.
Great service and follow up!
Great customer service, Colton went out of his way to get us what we needed to make an informed decision.
Very happy with the service and the explanation of the product we bought. Very helpful
Chris and Alita were awesome. Their customer service was above and beyond. I can't say enough good things of how Chris went out of his way to help us

...

with our new fire table. I would recommend them to everyone I know. Don't let the price discourage you from stopping by and looking at the high quality items California Patio has to offer.

read more
Keith is the absolute best! He went out of his way to research and find the exact table we needed! He's very quick to respond to our questions.

...

Couldn't be happier with the service at California Patio!

read more
Excellent selection of outdoor QUALITY patio furniture. We shopped the Dean Martin store. Jose was so pleasant and extremely helpful. Just the

...

right amount of help and not the pushy salesman in anyway. We were in a rush for patio furniture and we were able to take The selection directly from the floor model. The quality is nothing compared to some of the junk you find out there. This is high quality furniture and we expect it to last for many years. Definitely worth the extra money. Loved how they had so much more selection available if needed.

read more
Beautiful furniture! Exclusive items
Bought a sofa and two swivel chairs and fire table. All in stock and being delivered this week super nice salesman Looked around and nobody else

...

can compare to these guys

read more
Helpful, pleasant, knowledgeable.
Fabulous customer service and their prices and quality of product is perfect!
RoseMarie provided us with the most professional and courteous customer service! She accommodated us in all our furniture needs. Thank you for

...

everything!!

read more
Great customer service ! Quick and responsive and great prices. I have been looking for tucci umbrella's and someone to install them and I found it

...

all here!!

read more
Great selection, very helpful. Ended up leaving with a few new chairs and a table
Jose was so incredible to work with! Excellent service and knowledge building our oasis. He came and measured our space during a complete

...

construction site and had the vision. We are so happy with Jose and California Patio and we would recommend him and company!

read more
Good selection. Prices competitive. Quick delivery. All around Good experience.
Great selection of patio furniture. But an even more impressive outdoor kitchen equipment area sits in back. Good care from the sales folk got us

...

some new chairs for our patio table at a decent price.We have bought furniture here before and it's still good.

read more
Service was good and no pressure
The people who work there are the nicest most accommodating people. Jacqueline and Nina helped us and couldn't have been nicer. they are very

...

knowledgeable as well, if they don't have the answer, they will get it!we were very satisfied with the product and the service.

read more
Chris at the Encinitas location was fantastic to work with. Professional and very nice. Delivery of my fire pit and furniture was on time and

...

everything looks beautiful. Thank you for the great service!!

read more
I was able to find what I wanted and it needed to be in stock. Very attentive salespeople I was in and out in 15 mins.
Nina is awesome. Refreshing customer service. Thanks!!
Wonderful experience with California Patios. Jacquline helped us on Sunday and today on Wednesday an entire patio ensemble deliveredDelivery guys

...

were great.Thank you

read more
Excellent selection. Very happy with all of our purchases
The price and selection is excellent, and our salesman, Keith was totally efficient, but did not follow us around the store as we scoped out the

...

items on display. We needed to make measurements before actually purchasing our furniture. When we returned the next day we purchased some of the items picked out the day before and substituted other items in our final order. Keith never gave us anything but considerate and efficient service. Our home is undergoing renovations and it was no problem for Keith to hold on to our items in the warehouse for the 4-5 months it will take to complete our project.

read more
Wonderful sales staff! Linda and Jose were very helpful, informative, and proactive in getting the answers I needed. The furniture they carry is the

...

higher end brands so the quality is top notch.

read more
Excellent service and quality. Highly recommend California Patio in La Quinta.
Repeat customer, great service.Customer for life!!Keep up the great work!Ron Bruckel
Exactly what I wanted. Super easy to deal with. Why go anywhere else?
Excellent product showroom and exceptional customer service by Rosemarie and team, I highly recommend the San Marcos location.
California patio in San Juan Capistrano has been my go to patio supply for several years now. I purchased my umbrella and wheeled stand there. The

...

prices were as good as online. However, what I like most is how great the service is. My wheels were chewed up by moving my umbrella stand across pavers for several years and even though they were out of wheels, they took wheels off of another model so that I was taken care of. That's great service

read more
California Patio has been wonderful and they are a good value. Their selection and availability is the best in the Las Vegas Valley and they take

...

care of their customersfrom the sale to the delivery.. Jose, our salesman, was a pleasure to work with. He is very knowledgeable and friendly. We had gone to many other stores, but no one had inventory. California Patio had a large selection of in-stock items and they were able to deliver our productsquickly. We recently bought 2 cantilever umbrellas from them since we could have delivered and put together within days of buying them. We highly recommend California Patio!

read more
Not only are we extremely happy with the loveseat, swivel rocker chairs, and chat table we purchased at the San Marcos CA Patio store, but we're also

...

very happy with the customer service we received four months later when we decided to purchase covers to protect our furniture. They communicated well with us as we no longer live in the San Marcos area, which makes the delivery situation trickier. We highly recommend CA Patio for anyone looking for high quality outdoor furniture and excellent customer service!

read more
Nice inventory & friendly staff. Quick availability for orders.
Wonderful experience. Strong recommendation
My review is related to the excellent customer service I received when needing a gift certificate. I used the text feature and was followed up with

...

immediately and then the subsequent phone and emails were fast and effective.

read more
We were in the market for outdoor furniture for our new pool. Very high quality furniture was available to choose from. It was difficult to chose

...

from the many nice pieces. The owners were very helpful from picking the ideal furniture to loading it in my truck. Came back the next week and bought more. 😀

read more
We have used California Patio in San Marcos as our typical go to store for umbrellas and umbrella stands. Their products are of the highest quality

...

(sunbrella fabrics and heavy rolling stands). We recently bought an umbrella, but saw that the color did not go with others in our yard. The store allowed us to return it for a different umbrella with no questions asked. We have purchased umbrellas there for many years and always with 100 percent satisfaction. Rosemarie is very professional and very nice to work with. I highly recommend the store and their products. Customer - Bob Manning

read more
Knowledgeable, friendly service. They deliver on what they commit to.
California Patio- San Juan Capistrano was very helpful with ordering my Tropitone dining table. Very informed as to lead time. My order was placed

...

entirely over the phone, which made the purchase experience very convenient.

read more
We went in to purchase an umbrella base. Chris was extremely helpful. Made sure we were getting one heavy enough to work. It looks great and is

...

the perfect size. He knows the products but is not at all pushy.

read more
I was shopping for a natural gas grill this month and the brand and model I wanted proved to be difficult to find anywhere. Jacquelyn checked and

...

said they didn't have it in stock. She suggested some other grills for me to consider, but I knew exactly what I wanted. She then called the manufacturer to see when the grill would be available to get in stock. The manufacturer could not give her a date when they would be available. This did not surprise me because I checked with other bbq stores. At this point I'm thinking I have to wait until sometime in fall for a grill. Jacquelyn got back on the phone and called someone within the company to check some of their other stores . Much to my surprise, they found me the grill I wanted. Instead of waiting till fall for the grill I wanted, I'm getting it next week. Thank you Jacquelyn and California Patio. You went above and beyond.

read more
Easy process. Plenty of help but not at all pushy. Compared the prices and very competitive. High end products. Very happy.
Always super helpful and friendly. Great follow-thru! Awesome selection! Definitely recommend!
Beautiful and quality patio furniture. Service is very friendly and hospitable.
Tim was so helpful!!! We were in search of a specific drawer for a grill. Nobody in Vegas, or surrounding states, had what we needed. Tim is the

...

ONLY ONE that spent time searching out what he had in stock that could possibly work and how to make it work. He wasn't just trying to make a sale, he took the time to listen and find a workable solution!!! That work ethic is hard to find and so appreciated!!!

read more
We arrived at California Patio in San Juan Capistrano to order cushions for our patio chairs . We received excellent service. We were able to pick

...

out a fabric and get a quick quote on what the cost would within 20min. We placed our order and left. Great store for patio furniture.

read more
We have been looking for an outside table and umbrella for our new place for weeks. We searched retail and online vendors and couldn't get

...

comfortable with anything we saw. Today we walked into California Patio and within minutes, found the perfect table for our space. They were so helpful and knowledgeable. They answered all of our questions and their pricing was better than any competitor out there. Jacquelyn was so friendly and professional. We can't wait for it to arrive!

read more
Tommy did a great job we have new super comfort chairs and fire pit. It took some time but he worked with us and the results all positive.Lynn
Excellent service. Rose was very informative, polite, and helpful. We found exactly what we were looking for. I would recommend California Patio, San

...

Marcos to anyone looking for patio furniture or accessories!

read more
Great service at the store, delivery and installation as promised, on time, and done perfectly.Would definitely recommend these folks
We still have our first patio furniture that we purchased over 15 years and it still looks amazing. We needed to add some new chairs to our set and

...

the staff helped us find the right ones. They are beautiful and the quality is amazing. A++++ 100%

read more
We were looking for a hard find pellet smoker and no hope to get one. They sold their floor model to us over the phone and held it for us. Thank you
Great selection and courteous service.
Purchasing our outdoor furniture with California Patio was the best decision we have made. Jose was amazing to deal with and helps us 4 years after

...

we purchased it! This is a classy company that does things right!

read more
When I could not find what I was looking for California patio came through and had exactly what I was looking for at a good price. Everyone was kind

...

courteous and professional I felt very comfortable. And I recommend California patio to to everyone Looking for their backyard needs

read more
Just purchased a patio dining table and gas fireplace logs. Lots of styles to chooses from and reasonable prices. Staff is friendly, courteous and

...

knowledgeable about the products. I would highly recommend California Patio to friends and family.

read more
Wow! Great large showroom and wonderful customer service. We bought items off the floor for delivery that friday. They forgot and item to be

...

delivered and WENT BACK AND DELIVERED IT the same day. No hassles. Awesome service

read more
Quick and efficient service. Thank you.
I was pleased with the selection, service and helpful associates at California Patio. We highly recommend them. Nina was especially knowledgeable and

...

attentive to my needs.

read more
Very helpful and nice to work with.
So friendly and Great customer service !
Very friendly and knowledgeable. Although my mom had her mind set on a custom built pergola or gazebo, Rosemarie showed us another option that made

...

my mom change her mind and very happy.

read more
Rose Marie was our sales person, she did an awesome job!!!
I've never had anything but a fun experience in this store. They have an enormous inventory to choose from and the people are VERY friendly and

...

knowledgeable. I wouldn't give my outdoor furniture/BBQ/outdoor pizza oven business to any other retailer in California snd highly recommend them to anyone.

read more
Friendly knowledgeable staff wanting to go the extra mile to find what you are looking for-in our case a patio table w/6 chairs. We now know how to

...

take care of our purchase when it arrives and would recommend Nina and California Patio when the opportunity arises

read more
Nina at California Patio was extremely helpful, friendly and kind. She was able to help us order the right umbrellas for our backyard and knew

...

exactly what we were looking for. She followed up with us by phone after the meeting and got us what we needed. They have so many incredible options for the backyard I highly recommend you check them out, and they guarantee low prices!

read more
The sales clerk Keith was very helpful and I found the perfect patio set I was looking for. He said I would have it delivered in 2 days! I am

...

looking forward to the delivery.

read more
We purchased our whole outdoor furniture set and dining room set from California Patio and we loved the service we received and delivery was in time

...

also.Great place to shop.

read more
We We're looking for some good service we didn't find it another patio store and found it in Linda! We bought a treasure garden cantilever 11 foot

...

umbrella and well it hasn't been delivered yet the initial experience was great

read more
Tom was very nice and everything was great. Thx u.
We've been to California patio many times this year and always received exceptional service. Whenever we ordered specific outdoor furniture we were

...

told the date it should arrive and we also received a phone call when it was ready. Communication was fabulous plus they have a beautiful selection of outdoor furniture and barbecues. I would recommend them to anyone.

read more
Just had the BEST experience buying outside furniture from Jose. Professional, accommodating, PLUS funny! Perfect combination- life is too short to

...

buy stuff from people that aren't this nice. Go see Jose!

read more
Walked into the store and enjoyed a friendly and welcoming ambience. Lots of floor displays to look at and touch— an important aspect of buying

...

quality patio furniture. I found exactly what I was envisioning plus an umbrella and umbrella stand because, in my opinion, they were reasonably priced. Rosemarie paid attention to every detail on table and umbrella color, finishes, and availability. Highly recommend this location of California Patio.

read more
Low pressure environment. Staff thoughtful, informative and thorough. Everything you'd want in a sales experience.
Patio umbrella damaged from storm. Replacement of broken parts and material ordered promptly. Excellent customer service and responsive

...

communication with rep. Thank you!

read more
So happy we found California Patio. Marissa was VERY HELPFUL every step of he way. Started with trying to just replace out 20 year old umbrellas with

...

new coverings and ended up deciding to buy new ones...and a bunch of furniture too!!

read more
Wonderful efficient service. I had my quotes and all information I needed very quickly. I never had to call to check on my information, they

...

contacted me!Great selection to choose from too

read more
Was driving by and decided to stop in. Great looking store with some high quality bbq grills and patio furniture. Check them out if you get a chance.
Love this place. Great stuff and great people
Tommy was awesome and he went out of his way to find the items we needed and get them in quickly. We wanted quality products but at great value and

...

that's what they delivered.

read more
We purchased patio dining table, chairs and bar table from Chris at California Patio. Chris fully explained every aspect of the furniture, the

...

quality and "how to maintain" our furniture. We love our patio and although not inexpensive feel it is great value. Nick Calla

read more
Tommy was friendly, helpful and knowledgeable about his products. There was a good selection of merchandise. Prices were reasonable, considering the

...

quality.

read more
Over priced...wasn't impressed
Jacquelyn was so helpful. We went in the showroom not expecting to make a purchase today but she made the experience so easy and stress free. Her

...

ability to quickly answer questions and understand what we were looking for helped us confidently make a purchase. We are excited for our new furniture!

read more
I went to California Patio to check out the Mont Alpi grill islands that I saw online which they had only recently gotten into their store. The

...

employee greeted me and brought me to the two models displayed on their floor. I had lots of questions which he honestly wasn't able to answer and called over store manager Keith Ivy to help me out. He answered all of my questions and concerns as much as he was able to and those he couldn't he immediately got on the phone with the product representative to get. He actually called him several times just to make sure we both had clarity on any questions I had. The best part of the experience was the customer service and honesty from Keith in regards to what he answered or couldn't answer himself but most especially was no sales pressure. Great people here and great products!

read more
California Patio offers high quality patio furniture and accessories with exceptional customer service. Marissa at the Encinitas store was helpful

...

in picking fabrics, providing pricing, and followed up on every question I had. She made the entire purchasing process enjoyable and seamless. I highly recommend purchasing your outdoor furniture here.

read more
I highly recommend working with Keith at the Rancho Mirage location. He is extremely helpful, knowledgeable and even goes above and beyond. I drove a

...

lot further than necessary (there is another location much closer to my home) just to work with Keith and would do it every time I need to add anything.

read more
During the chaotic and uncertain times in today's society; let me assure you that excellent customer service, kindness and high quality services can

...

still be found with Rosemarie at California Patio in San Marcos. I went in to the store not knowing what to expect during these uncertain times, however, Rosemarie was so warm & welcoming and provided exceptional customer service all while following the Covid-19 safety protocols. I had a budget in mind, but needed help with finding the right pieces for a small-space patio area! Rosemarie gave me all of my options for items that were in stock that I could take home that day or have delivered within a few days. She not only listened to my needs but helped me pick the perfect items that were under my initial budget with no pressure at all!! I know my purchase will last a long time with the quality of the items selected and I am thrilled to be under budget. I highly recommend going in to California Patio and working with Rosemarie to help get your ready for summer gatherings with family and friends!! Thank you Rosemarie for all of your wonderful assistance; I can't wait to come in again for the next purchase!

read more
Sam was extremely helpful, courteous, and knowledgeable. When I had to make changes to our order he was efficient and accommodating.Thanks Sam!

...

We'll be back to California Patio.Karen Overland

read more
Jacquelyn was amazing at California Patio in San Juan Capistrano. We love this store and have shopped here for 20 years. She's a wonderful addition

...

to the team. Jacquelyn was a professional in every sense and extremely knowledgeable of all of their products. I highly recommend this store for all you outdoor needs!

read more
Sales staff, Very Helpful 👍
I had a very good experience, I wasn't rushed and was able to take all the time I needed to evaluate all the different types of furniture. I decided

...

to customize my patio furniture and was given a great deal of help with the samples. Ordering was very easy and the salesman was very helpful throughout the experience.

read more
Linda at California Patio was awesome to work with on my purchase of a grill. She went above and beyond to get me exactly what I wanted in the

...

configuration that I wanted and arranged freight for it to be shipped to Montana. A very satisfied customer.

read more
I had a fantastic experience purchasing an outdoor electrical heater from California Patio. In essence, I bought a couple of hard to find heaters by

...

contacting the Encinitas store. The heaters were in inventory up in San Juan Capistrano and I bought them but really needed them the next day. I live in San Diego and offered to drive up and get them. My friends at California Patio drove themselves (did not ship) and arranged for me to pick them up in Encinitas the next day. Incredible service...

read more
We initially visited several area patio furniture stores, looking at inventory and discussing options with sales personnel. We ultimately selected

...

California Patio Encinitas because of the obvious product quality and because of the exceptional service from salesperson Marissa Bandera. We placed our custom order (Marissa was great help with pattern selection!), and California Patio kept us up to date on the status right up to delivery. Delivery was "white glove" treatment; the guys were polite, professional and timely. Our new patio furniture looks and feels incredible! Two thumbs up all around with California Patio Encinitas!

read more
We worked with Marissa at California Patio to select a new outdoor dining table and chairs. She knew the product line very well, nearly every detail

...

from memory. She was patient as we worked through our selection process . This is our second purchase from CP. We highly recommend Marissa and the team. They do a great job!

read more
The selection at California patio is wonderful . The staff particularly at the San Juan capistrano location are helpful knowledgeable and just really

...

nice. Had an excellent experience with Jacqueline she knows her stuff and if she didn't she did research to get me my answers. Great store!!

read more
My experience was great!! In the store they show me all the possible solutions for the right log for my firepit and helped me chose the right one.

...

After an order confirmation on the phone I've been contacted from Brandon and he came the same day to install it! Very professional and fast!! I couldn't be more satisfied of their service......VERY RECCOMENDED!

read more
Jose is one amazing gentleman. He keeps up with his customers and keeps you informed. I really have to say best communication I have ever had with

...

the department of SalesThank you so much for all that you do Jose.

read more
I would give California Patio, and Jacquelyn specifically, 10 stars if possible!! I've been in to see them twice now and am unbelievably impressed by

...

her product knowledge, customer service, and diligent follow-up. Highly-recommended for all things patio and fireplace related!!

read more
We had a terrific experience at California Patio!Nina helped us and she was a godsend. We had space limitations in our back yard and Nina worked

...

with us on all the details. There are so many options, shapes, sizes, colors, etc., it became overwhelming for all the pieces we needed.Nina was patient, knowledgeable, experienced and knew all about the manufacturers they represent. We LOVE our furniture and it all fits perfectly.We cannot recommend Nina and California Patio enough!

read more
Rosemarie was absolutely outstanding. We had been struggling on how to finish out our collection we had started with another store. We stopped by

...

randomly and within less than an hour, she did what others couldn't seem to do in over a month. Rosemarie's knowledge, expertise and service were over the top! Excellence!!

read more
Brandon was so helpful! He demonstrated how my new BBQ worked and then drove to my house and helped me take it out and set it up. I highly recommend

...

California Patio!!!

read more
Great selection of high quality outdoor furniture and accessories. Staff is Courteous and knowledgeable of the products. If you are looking for

...

beautiful outdoor furniture that's built to last this is the place to visit.

read more
Amazing staff and great selection!
It was nice, lots of patio furniture, grills,and umbrellas. The prices were high end.good quality and comfortably.
We just purchased an outdoor dining table, 8 chairs, a love seat and two side chairs from this store. Everything was beautiful. Delivery was smooth

...

and easy. Plus their texting option with the sales rep is really awesome. Ended up just buying an umbrella today too. Highly recommend this company and their products.

read more
Best selection and prices.
We recently purchased patio furniture and a fire pit from California Patio and we were very pleased with the experience. The team was very

...

knowledgeable, spent the time to explain all our options and offered their expert opinions. Would definitely recommend them to my friends.

read more
I was super impressed by the professionalism and follow-up of Chris Valenzuela. They had a good selection and a lot of quality products.
I worked with Chris Valenzuela and he helped me find exactly what I was looking for. He went above and beyond. Thanks Chris.
I ordered patio furniture replacement cushions during COVID. Some of the order was custom items and some of the manufacturers were closed or slowing

...

their production during this time. Jacqueline from the San Juan Capistrano store took on my order and stayed on top of the communication throughout the waiting period.As it got closer to the expected delivery time she stayed in touch with the manufacturers on a daily basis and communicated to me even when she didn't have an update, so I would know she hadn't dropped the ball.It's rare to find individuals that take such pride in their work and follow-up and follow through to make sure the customer is never forgotten. I highly recommend this organization as a company that cares and will get the job done.

read more
Awesome furniture with a variety of styles to decorate your yard to your teast.
We are a 3 time customer over the past 10 years. We looked around but could not get another company to give us a price or follow up. Chris was our

...

salesperson and got us all e needed. It's great to get price and service.Jerry

read more
I had many objectives when I was on the hunt for a new patio table. Certain size, extendable, certain color, certain style, certain dimensions. I

...

checked California Patio and found exactly what I wanted. I emailed California sales and they mailed me back pictures of the tables that fit my description.Shawn, the salesperson was very attentive and helpful. I purchased the table and am anxious to put the table in my back yard. It's a beautiful table and exactly what I wanted.Ardis

read more
My husband and I have been looking for chaise lounges and umbrellas that are good quality and the color that we wanted for the last two weeks, at

...

stores and online & couldn't find anything that we liked. Therefore, we decided to go to California Patio in San Marcos and there we met with Rosemary who was so knowledgeable and patient with us as we selected our own fabric and metal color for chaise lounges and an umbrella to match! We are very happy and can't wait to get them. It's going to take 10 weeks due to the Coronavirus.

read more
Great layout. Pricing pretty good.
Great, great customer service. Very helpful and patient through our multiple visits and questions. Thanks Jacquelyn!!
After spending a day looking at 8 other patio stores we felt we had seen a large sampling of design, price and quality.

California Patio was

...

by far the best combining outstanding quality in an American made patio set with the best design we saw all day and a price that was much lower than any of the other quality sets we saw.

To top it off our sales person, Jacquelyn, was as nice as could be and we later found out that she is part of the family owned business.

My wife and I were very happy to support this family business and get the perfect set for our needs. We will be back for more in the future and highly recommend that you go there as well.

Thank you Jacquelyn!

Sincerely,
Brian & Susan Hannigan

read more
The folks who work at California Patio in SJC -all of them are professional and knowledgeable about their products. We decided upon a collection.

...

What they had in stock was almost what we wanted minus one piece. Jacquelyn found what we wanted- reconfigured our set and delivery was set for the following day. I didn't hear the delivery guys and they left a notice to reschedule-I was upset and called the store. Within 15 minutes they had the delivery guys turning back to our home. When they got to our home they were also polite and professional. They carried and set everything up and made certain that everything was perfect before they left. I would recommend this business due to the quality of people they employ in addition to the varied choice of patio furnishings and accessories.

read more
I have bought furniture and umbrellas here for the past few years. Recently Rosemarie went out of her way to assure we got our replacement canopy. CA

...

Patio has a great selection and the staff at all of their stores are super helpful and knowledgeable.

read more
Great customer service. Took time to show options and put together a great outdoor spaceKeith has great knowledge of all the various products and

...

took the time to explain options. I never would have known umbrellas come with so many optionsIn the end I love everything and the backyard looks great

read more
Incredible customer service from start to delivery. Courteous and knowledgeable staff. We really recommend buying with California Patio.
Walked in looking for chaise lounge cushions. Left with 2 exceptional thick comfy cushions that fit perfectly!The sales staff was most helpful and I

...

liked their selection of accessories.

read more
Outstanding customer service with Pablo at California Patio. He was patient, kind, knowledgeable and thoroughly answered all my questions. Pablo made

...

the buying experience of my outdoor patio furniture enjoyable. I love it and get compliments from my friends. Highly recommend asking for Pablo if you stop by the store.

read more
Great products and peerless after-sales support. Jose and the crew were quick and efficient. Very happy repeat customer of California Patio.
Great service and friendly staff made our experience great! Highly recommend them. Especially Brandon!
Linda, Pablo and Tim are Great!Very knowledgeable, great selection and great prices!
Great people, great service, amazing Patio furniture... literally Thee Best.
They were all so helpful. Delivered on time.
Great people. Great outdoor living products! Simply the best!
Jacquelyn was very helpful in showing us all our options for our new patio furniture. Love the big showroom as it allowed us to sit on a wide variety

...

of chairs and sofas. They have consistently carried high-quality furnishings. I still have a set from about 16 years ago and I've only had to re-sling the chairs once!

read more
We just bought a second home in San Clemente and needed some outdoor furniture for our deck. Austin was a great help in securing some seating and

...

then went the extra mile to find us the perfect fire table to complete our needs. If everybody was this easy to work with it would be a much better world. ---J & J

read more
I was in the market for some new patio furniture and wanted some specific features. Stylish, Comfortable, and Durable were at the top of my list.

...

Jacquelyn took the time to educate me and explain the difference in manufacturing and why they choose the companies they do. I did shop around and I found myself back at California Patio, they are the Pros!

read more
We had a fabulous experience at California Patio, thanks to Marissa Bandera! With condo restrictions, budget and comfort needs, finding patio

...

furniture can be a daunting task. Marissa made it easy from start to finish. We were able obtain an approval from our HOA on the same day that we found the furniture, thanks to her quick action and communication with our HOA when they requested more information. Once our furniture selection was approved, all it took was a quick call to Marissa to get it ordered as she had saved all of our items in the computer. That was yesterday and tomorrow we will be enjoying our furniture on the patio! I highly recommend California Patio and Marissa!

read more
Our sales representative was very knowledgeable and helpful. We had a great experience. This was our first time visiting the store and we ended up

...

purchasing a fire pit.

read more
The products at the store are outstanding! They are sturdy, excellent construction and top quality material.If you are looking for a bargain

...

however, prices are high. You are definitely paying for the quality of the products.

read more
This is my second purchase of a high ticket item from California Patio in the past 5 years. Excellent service and pricing. Linda was a huge help

...

during our decision to purchase a firepit table and chairs. She literally spent hours with my wife and I as we decided the best options for our needs. Linda guided us through all the options and styles and gave us the feedback we needed to make an informed decision. She is extremely helpful, patient, knowledgeable, and friendly. Thank you again Linda.

read more
Service was excellent. Jacquelyn helped us with our choices by showing in the computer what the color combinations would look like. Other customer

...

reps helped by bringing styles of chairs to us so we could sit and try the chairs. I would recommend this store highly!!

read more
Keith was a tremendous help in helping us pick out the firepit we were looking for. We came in from off the street and were treated like long-time

...

customers. Highly recommend this store.

read more
Outstanding experience all around! Jacquelyn was fantastic at educating us on the different features and qualities of umbrellas. So happy they had

...

what we wanted in stock.Very helpful and plenty of items to choose from.Love what we purchased and will definitely come back to shop.

read more
Keith was SUPER helpful . He spent over an hour helping me find the right patio furniture. Can't wait for the delivery!!! Go to California

...

Patio...they have a huge variety of styles and finishes to choose from. 🌴🎉😎

read more
Excellent customer service with Chris. Prices are competitive, quality furniture. Chris was extremely helpful and knew the brands they displayed

...

and carried. 5 STAR all day. Recommend California Patio-San Juan to all looking to purchase individual pieces or sets.

read more
Purchased 2 fixed chairs, one swivel chair, and ottoman August 2019 and fantastic experience thanks to entire staff, but especially Jaqueline. Great

...

selection to meet everyone's needs, plus terrific customer service. We shopped around and purchased from California Patio in San Juan because of quality and pricing. If you're looking for patio furniture a cut above the all too common big box store outdoor wicker, this is the place and ask for Jaqueline!

read more
Great furniture top of the line quality. Friendly and knowledgeable staff and customer service. Love love this place. Best in the west. Jacquelyn is

...

fantastic!!! She knows the furniture and has a great eye for design. Willing to go the extra mile. Stop in for your next patio furniture and accessories. Awesome. Barbara

read more
The service was excellent,helpful and knowledgeable.Austin was very personable and polite.
We had a wonderful experience purchasing a Blaze grill at California Patio. We worked with Shawn, who was very helpful and knowledgeable about the

...

product. We would highly recommend them for patio furniture needs, as well as, bbq's and accessories.

read more
Very happy with the service we received. All the staff were very helpful. In particular many to thanks to Jacquelyn for always getting back to us so

...

quickly whenever we had questions.

read more
California Patio In San Juan Capistrano is the best place to shop in all of Orange County for patio furniture and accessories. The store has a wide

...

range of products and the sales associates very helpful, friendly and informed of the products they sell. Austin and Jacquelyn answered all our silly questions and explained everything throughly. I know we will enjoy our purchase and be happy with our furniture for many years.

read more
Fantastic service & selection from the sales floor (thank you, Jose!) to the delivery team. Jose was very helpful & instrumental in outfitting our

...

outdoor space. He listened to our design concerns & provided great suggestions & solutions. Each step from start to finish was flawless. We will continue to patronize CA Patio.

read more
My wife and I dealt w/Brandon, and he was extremely helpful and consciouses of what we were looking for in a backyard design. We'd highly recommend

...

them!

read more
Jacquelyn was very knowledgeable and really took the time to understand our needs. She even called us on her day off to follow up on our order. We

...

highly recommend that you ask for her at the California Patio- San Juan Capistrano showroom.

read more
Wouldn't buy from anywhere else. We drive from out of town to go here. Jose is the best salesman. They have helped us furnish our new backyard.
Great experience, Jacquelyn couldn't be more helpful and upfront. Easy process will definitely acquire more pieces from them in future.
Chanelle has helped me on two different occasions with big backyard purchases. She is very knowledgable about the inventory and worked within my

...

budget. Delivery was quick and easy and she even followed up to see if I was happy with my purchase! A great customer service touch!

read more
The staff had a Professional approach from beginning to endGreat productMany price points and all with quality consistent with themI was Quoted

...

lead times yet they beat themI'd be pleased to do business with them againAnd of course would recommend themHighlyBTWLocal ownership and owner managementTruly makes a difference in the experience

read more
Keith Ivy was a real pro. He offered to come to my place and measure, not wanting to spend a good amount of money on a patio set and then it not fit

...

. He worked back and forth with me for weeks before ultimately deciding on a beautiful set. I looked at 6 other local patio furniture places and this one by far exceeded my expectations. Hesitate no further go see Keith 👍👍.

read more
Jose was unbelievable in solving my warranty problem.
We were in a pickle when we went into California Patio. We had purchased an outdoor dining set from another company and struggled with it for over a

...

year. Long story short, that company (I commend them for taking away the inadequate furniture) gave us a full refund. We found a much higher quality, at a great price point at California Patio. We can't thank Jacquelyn and Austin enough for their top notch customer service. They both spent a lot of their time helping us decide on the perfect set, and the perfect fabric to go along with the seating area furniture we purchased from them last year! Can't recommend them enough. They know their product and how to keep it looking beautiful for years to come. Thank you, thank you for your help! And a little icing on the cake...we get white glove delivery Monday. That's right, purchased Friday evening and delivery scheduled Monday!!!!😃😃😃. Thanks for going above and beyond to make it all happen!

read more
Great customer service! 😊
We had such a great experience at California Patio in San Juan Capistrano .Jacquelyn was amazing. she directed us to the perfect patio furniture for

...

our situation. We had a very difficult backyard with very limited space . We wanted to capture our view and had to place the furniture in front of large sliding doors.Jacquelyn took the time to direct us to the right patio set that was low in profile. She helped us with our southwest sun exposure in selecting the right umbrella. I would highly recommend going the California Patio for all your outdoor furniture.

read more
Jacquelyn was so helpful. She was knowledgeable about all the brands we inquired about. We came back twice and she let us take our time testing the

...

furniture. I would definitely recommend California Patio. We ordered on a Saturday and they are being delivered Monday. Thank you!

read more
California Patio has a huge selection of beautiful, high quality outdoor furniture and bbq grills. The staff is very friendly and knowledgeable. I

...

would definitely recommend them.

read more
Dream patio! There's this hammock...wow. and lots of different table and chairs sets...stylish. Comfortable, durable, umbrellas galore, plus some

...

with built-in lighting, Bluetooth stereo system, headlamps.

read more
We are return customers looking to continue to enhance the outdoors of our home. California Patios is our first choice; not only for selection and

...

quality of products, but for the supreme customer service they provide. Their knowledge of their products and manufacturers are superb! Jacquelyn assisted us last year in making our choices - her professionalism and knowledge makes it easy. We returned there this spring to make another purchase. Along with Austin there, we will continue to return year after year to meet with Jacquelyn at California Patio!

read more
Nice stuff, very friendly
Delivery service are very professional and convenient to my schedule.
Ordered a beautiful outdoor fire pit. Sales person dialed us in on the best unit with the btu that was right for us.". Choices of decorative glass

...

were provided. Delivery upstairs was completed on the day promised (and old unit was taken away). Very satisfied.

read more
Just needed an umbrella. Great service and quick transaction.
No pressure sales. Great quality furniture
Very cool Patio/Outdoor Furniture store!