"The power of imagination makes us infinite."
― 
Our Customers are our Success!
Founded in 1981 in a small warehouse in Costa Mesa, CA and built off a passion for enjoying the outdoors, California Patio started selling outdoor leisure products from industry leaders and began developing some of the best industry relationships, many of which still exist today.
Our passion is quality! Our drive is service! Our Company was built upon the principal of providing the best service to our customers regardless of what they buy. Our staff constantly goes above and beyond to ensure our customers are well taken care of. Add to that a total of over 6 decades of Leisure & Outdoor product experience from retail to manufacturing and you can understand our passion for legendary service to our customers! You will be delighted with the knowledge, professionalism & genuine caring they display every day. Our Outdoor spaces are extensions of our own styles and we carry the best in the business.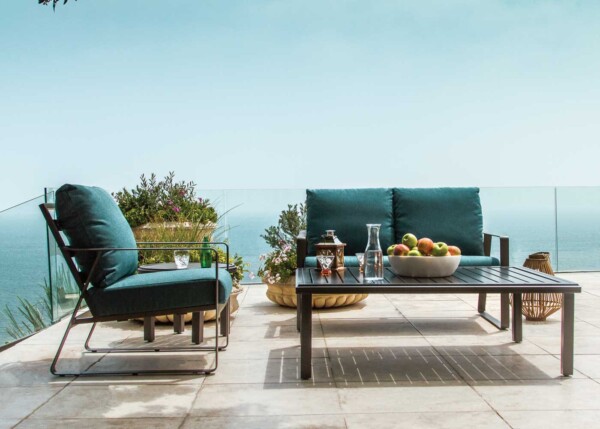 REDEFINING VALUE
What does value mean to you? Is it price, service or convenience? Big Box stores may appear to offer the lowest prices on seemingly the same products as many traditional retail outlets but are you really getting a good deal? Is price always a determining factor of value? It may look great in the store, but is it exactly what you wanted? That $250.00 dining set may seem like a good deal until the first rain or wind storm and then you're fishing pieces out of your neighbor's tree and wondering how you can get the furniture repaired.
 Most Big Box and Home Improvement Centers typically will not accept the the merchandise back, leaving you with outdoor furniture that will more than likely last you 1-2 years due to poor quality, fading of the fabrics and finishes or rusting of the structure. Big Box stores stock only very limited colors, fabrics and styles. Delivery, setup and disposal of packaging and old furniture is your responsibility as are any warranty claims that may arise. Where is the value proposition in that?
REDEFINING SERVICE
Casual Furniture Retailers offer service on a whole new level as opposed to big box & home improvement stores. When you shop with us, you get friendly, knowledgeable staff who is well versed in the products they sell. We can offer you virtually endless possibilities of colors, fabrics and styles, all chosen by you. You can sit, touch and probe the merchandise and feel the difference in quality. When it comes to delivery, we offer white glove delivery and setup with trash removal. Your furniture will look just as you designed it and will last years.
 Many of the manufacturers we offer, carry the best warranties in the industry, ranging from 3-20 year limited warranty against defects for residential consumers on frames, finishes and vinyl strapping. With a warranty like this, it is evident that the furniture is designed to stand the test of time. Couple this by our unparalleled dedication to serving you,  the customer and welcoming you to the California Patio Family!
Don't take our word, See what our customers are saying…
Keith was helpful and knowledgable. Great selection to choose from, and reasonable price points. Very happy!
Professional, knowledgeable of products and accommodating.
The gent working the desk (all by himself, I might add) was fantastic- super helpful, no BS and didn't try to up-sale me, thanks! Will come back

...

again!!!

read more
We bought a treasure garden umbrella and a rolling umbrella stand. Loved it so much we went back and bought another one. Chris was very helpful

...

answered all my questions.

read more
We needed a certain size for our ocean view deck. Keith got out his measuring tape and went to work to help us choose a manufacturer that fit our

...

needs. He did not try to sell us anything, just gave us solid information based on our needs. After arriving home we rechecked the measurements and called Keith for the over the phone purchase. Delivery by CP truck and set up by driver Jorge was excellent. Jorge bolted the sections together and explained the cushion Velcro's system. We are very happy with our CP purchase.

read more
they ha what i was looking for at a fair price and were able to deliver the next day
Great showroom with a perfect smaller scale patio set in my budget. Keith was more than helpful. I highly recommend their products and service.

...

Thanks!

read more
Great service and product selection. Would definitely purchase from there again.
Excellent choice of furnishings and high quality grills. Customer service was attentive, knowlegable and friendly. Great value for the quality!
The sales person was very knowledgeable about the product. She listened to my questions and was able to quickly locate the chairs I needed for my

...

backyard.

read more
We had such a great experience at California Patio in La Quinta with Thomas. He was helpful when we needed assistance and left us on our own when

...

we needed time to think. The outdoor furniture is perfect for us!

read more
Great customer service! Very knowledge, friendly, and helpful!
Service was excellent from ordering to delivery. The delivery gilets new I had something to get to and came early. Thank you
I got my Patio furniture from California Patio 18 years ago and am just now having to reupholster the chairs. The staff is helpful, friendly, great

...

communication skills and were at my house when they said they would be here. I highly recommend California Patio. They have a customer for life with me.

read more
The delivery men were great and very helpful.
Staff was so helpful! Love my merch that i bought
Jose and Linda have been so caring and understanding! They made it seamless to help me and what my needs are. Refined customer service is

...

apparent! From outdoor Heaters to the biggest baddest BBQ pit ever!!! Thank you!!

read more
Great customer service. Pressure free and informative.
Viviana helped us so many times to make our purchase.
California Patio never disappoints. All furniture and supplies are high quality.
We love this place! It is always a great experience even when we are just looking around. We are furnishing our backyard remodel with their products.

...

Jacqueline has been so helpful answering any questions we have because she is so knowledgeable about CP products. CP has quality products. Great value for what you pay.

read more
Great service and great people and products
Excellent service, very helpful
I have purchased from California Patio for years. Needed a new umbrella and stand and was happy that they had it in stock. Always very kind and

...

helpful. I highly recommended them.

read more
Great store, Great selection, Great staff.
We purchased outdoor furniture three years ago at California Patio that we are very pleased with. I wanted to purchase a rolling base for our

...

umbrella. The process was so quick and easy.Rosemarie, the salesperson was able to look up our previous order to match colors to know what we needed. The purchase and delivery was a smooth process.Excellent customer care. KBF

read more
I was treated with such kindness and respect in my search for the perfect umbrella! They made it fun and easy!
Fantastic customer service!
Courteous, Professional, and extremely knowledgeable of all of the product lines! My sales person Jacquelyn played a key roll in directing me on what

...

choices to make! She was right in my patio furniture looks amazing!!!

read more
The team was great and very helpful!
Nice selection and pricing. No high pressure sales. Quick delivery and professionalism. Will definitely return.
I sure got a great salesman that was way helpful. You end up wanting to buy from them because of his help.
California Patio always has what I'm looking for in stock and ready. Staff is always very nice and helpful.
Shopping for patio furniture at California Patio in Rancho Mirage was a pleasure. Keith found us items in stock, without the 4 to 6 month wait we

...

encountered at other stores. Delivery was on time, and the guys were careful and thorough. Thank you so much!

read more
Thomas is so knowledgeable and attentive! He's a pleasure to work with.
The best experience I bought from these guys quite a few times highly recommend
A great selection with wonderful staff. Provided solid information to consider to make our decision. The delivery staff were fantastic as

...

well...smiling even after they carried the five pieces of furniture up our steep very long driveway to discover there was another steep incline with steps to get our new furniture to their resting spot! Couldn't be happier!

read more
I bought a two person slider from CA Patio which was getting delivered today. The truck showed up at my house and it was the wrong item. My chair

...

was not on the truck. Within a half hour someone from CA Patio called me, apologized and told me that my chair would be delivered today. A couple hours later someone from CA Patio showed up in their personal truck and delivered my chair. They went above and beyond and not only do I have a great chair, but they provided the best service I have had in a long time. So I absolutely recommend CA Pation, not only do they have great outdoor furniture, they also provide awesome customer service. I would give them more than 5 stars if I could.

read more
Excellent Customer Service and Follow Up
Just what we were looking for our Outdoor area, friendly and easy to shop and purchase.
I was convinced to believe this company is real and fast on payment.
You can verify yourself.
MICHELLE MIDRED is truly Legit.
I wish I have

...

known this platform long ago.
My fear for online Investments was proven wrong by this company, After my first withdrawal went successfully. I have been earning without any demand or stress ever since I Registered here. This is a reputable crypto Investment Platform to invest in, You can contact her to earn... Michellemidred@gmail.com
WhatsApp: +1(910)227-4380

read more
Vivian was very professional and knowledgeable…I bought the item I needed and was out the door in a few minutes!
Viviana was so knowledgeable and patient with me! Her customer service was 10/10! They even pricematched the heater I wanted (Bromic - just love it).
Excellent staff, well knowledgeable.Price was great
Excellent service! Amazing products at fair pricing. I would not go anywhere else!
This is the best place to get your outdoor patio furniture! Rosemarie knows the product and has excellent customer service skills. She will remember

...

your name after she meets you along with everyone you know who bought furniture at the store along with what they bought. The quality is top notch. I have Scheurman's Disease, a spinal deformity, and I can sit on their furniture for hours without it hurting my back. The delivery team is also very professional and punctual. You will pay a bit more than what you would pay at other places but you get what you pay for! Good quality furniture, excellent customer service, terrific delivery people, and no headaches. If you go to one of the cheaper furniture places like I regrettably did with some items, be prepared for headaches. You will not experience that with California Patio.

read more
Great shopping there. The young man was very knowledgeable and helpful.
Excellent processes and local team
Aleta was super helpful and When my furniture was delayed as everybody's is, they contacted me to keep me updated
Extremely helpful team! Helped me customize my order. Rosemarie was excellent at following up with me!
Total satisfactory experience and customer service
They had what I wanted in stock and provided great service.
Great place!! Lot's of selection and inventory in-stock. They explained the difference between the various brands and options so we could make an

...

informed decision. Highly recommend.

read more
Always friendly and helpful! Will continue to support this store.
Great customer service!! Jacquelyn and Austin were awesome!! I will definitely be back!!
2 years ago, i bought chairs and a coffee table here. At the same time, i bought a dining table from Dixieline (was cheaper). today, the dining

...

table from DL is falling apart, and the coffee table from Ca Patio looks brand new still! i went back and bought a new dining table that matches the coffee table. I thought i was "saving" money buying the cheaper one from DL... that money is gone, and i have to pay to trash it 2 years later. CA Patio furniture lasts, and is WORTH the extra cost!

read more
Great quality and selection. Linda was very helpful and followed up promptly with the information requested.
Needed furniture for the backyard around the pool. Reasonably priced, good selection of items to fit our needs.
Great selection and the staff really goes over and above to assure you get what you want.
Awesome selection and great service, especially from the delivery crew!
I bought an umbrella from them last summer and the service and umbrella was so good, I just bought another one. Jose was so helpful from purchase to

...

setting up delivery. George and Miguel who delivered the umbrella today went above and beyond to help me. I highly recommend this California Patio store (Dean Martin Dr. Las Vegas location)

read more
We are long time customers of California Patio and have always found the staff very friendly and knowledgeable. Our patio furniture still looks

...

great due to the quality and keeping it clean regularly. We would highly recommend this store, great selection, unique products and great service.

read more
So happy we did not have to purchase an entire setJust needed a sofaFound the perfect one!
What a great experience working with California Patio and I highly recommend. The staff is friendly and knowledgeable in addition to providing great

...

recommendations. The showroom is the best I've seen with hundred of options to choose. If your looking for outdoor decor and essentials with reasonable pricing this will be your one stop shop.

read more
California Patio went out of their way to find exactly what I needed in a replacement table. They don't make many 60 inch square but They were able

...

to locate one that matched my furniture.

read more
Austin was very knowledgeable and helpful!
salesperson was polite knowledgeable and efficient in getting us the information we requested about the item we ultimately bought
Love their chair cushions and their service! Thanks for the teamwork!
The associate was knowledgeable, pleasant and helpful.
Shawn was terrific to work with. We couldn't be happier with our purchase experience. I trust the delivery will be the same
We really enjoyed our experience with California Patio. We've purchased items from them before and went back for a patio table. We had the same

...

positive experience again! We appreciate their knowledge of what items are available and what we can actually get fairly quickly. We were able to purchase a table on Saturday and have it delivered today. Thomas was our sales rep and his insight on the many products out there helped us make an informed decision. We'd recommend them without reservation!

read more
Friendly, truly quality products!We purchased quality patio furniture about 10 years ago and it's been in the sun, uncovered all that time. (San

...

Diego)It looks great!! Not one wicker piece has broken, the pillows have held up well and we could not be happier that we invested up front to purchase from California Patio!

read more
These guys give excellent customer service. I've used them for new cushions, a fire pit, and will order some new patio furniture from them.
Great experience. Want to call out Tupac who helped us extensively.
Knowledgeable, friendly help. Long lead time disappointing.
I called to order new cushions for my outside patio 3 sectional couch. 1st after 10 years of the furniture being outside by the ocean…. It looks

...

great and has held up. The wicker on the base hasn't cracked, separated nor lost any color from the sun. Nina was very responsive in getting me new cushions. I had washed the cushions many times during 10 years… and finally needed new covers. Best patio furniture I've ever bought. NINA communicated, was amiable and answered all of my questions. Efficient!Brooke

read more
Great customer service! Had broken umbrella that needed to be repaired. Representative was able to pickup and order part replacement. Very

...

attentive and accommodating to help resolve the issue. Thank you so much!

read more
Very professional staff! :-)
They were very professional and have a great selection of patio furniture Their umbrellas are made of 100% Sunbrella fabric so will last a long tome.
Great service and follow up!
Great customer service, Colton went out of his way to get us what we needed to make an informed decision.
Very happy with the service and the explanation of the product we bought. Very helpful
Chris and Alita were awesome. Their customer service was above and beyond. I can't say enough good things of how Chris went out of his way to help us

...

with our new fire table. I would recommend them to everyone I know. Don't let the price discourage you from stopping by and looking at the high quality items California Patio has to offer.

read more
Keith is the absolute best! He went out of his way to research and find the exact table we needed! He's very quick to respond to our questions.

...

Couldn't be happier with the service at California Patio!

read more
Excellent selection of outdoor QUALITY patio furniture. We shopped the Dean Martin store. Jose was so pleasant and extremely helpful. Just the

...

right amount of help and not the pushy salesman in anyway. We were in a rush for patio furniture and we were able to take The selection directly from the floor model. The quality is nothing compared to some of the junk you find out there. This is high quality furniture and we expect it to last for many years. Definitely worth the extra money. Loved how they had so much more selection available if needed.

read more
Beautiful furniture! Exclusive items
Bought a sofa and two swivel chairs and fire table. All in stock and being delivered this week super nice salesman Looked around and nobody else

...

can compare to these guys

read more
RoseMarie provided us with the most professional and courteous customer service! She accommodated us in all our furniture needs. Thank you for

...

everything!!

read more
Great customer service ! Quick and responsive and great prices. I have been looking for tucci umbrella's and someone to install them and I found it

...

all here!!

read more
Great selection, very helpful. Ended up leaving with a few new chairs and a table
Jose was so incredible to work with! Excellent service and knowledge building our oasis. He came and measured our space during a complete

...

construction site and had the vision. We are so happy with Jose and California Patio and we would recommend him and company!

read more
Good selection. Prices competitive. Quick delivery. All around Good experience.
Service was good and no pressure
I was able to find what I wanted and it needed to be in stock. Very attentive salespeople I was in and out in 15 mins.
Excellent selection. Very happy with all of our purchases
Wonderful sales staff! Linda and Jose were very helpful, informative, and proactive in getting the answers I needed. The furniture they carry is the

...

higher end brands so the quality is top notch.

read more
Excellent service and quality. Highly recommend California Patio in La Quinta.
Repeat customer, great service.Customer for life!!Keep up the great work!Ron Bruckel
Exactly what I wanted. Super easy to deal with. Why go anywhere else?
California Patio has been wonderful and they are a good value. Their selection and availability is the best in the Las Vegas Valley and they take

...

care of their customersfrom the sale to the delivery.. Jose, our salesman, was a pleasure to work with. He is very knowledgeable and friendly. We had gone to many other stores, but no one had inventory. California Patio had a large selection of in-stock items and they were able to deliver our productsquickly. We recently bought 2 cantilever umbrellas from them since we could have delivered and put together within days of buying them. We highly recommend California Patio!

read more
Nice inventory & friendly staff. Quick availability for orders.
My review is related to the excellent customer service I received when needing a gift certificate. I used the text feature and was followed up with

...

immediately and then the subsequent phone and emails were fast and effective.

read more
We were in the market for outdoor furniture for our new pool. Very high quality furniture was available to choose from. It was difficult to chose

...

from the many nice pieces. The owners were very helpful from picking the ideal furniture to loading it in my truck. Came back the next week and bought more. 😀

read more
Beautiful and quality patio furniture. Service is very friendly and hospitable.
We were looking for a hard find pellet smoker and no hope to get one. They sold their floor model to us over the phone and held it for us. Thank you
Love this place. Great stuff and great people
After spending a day looking at 8 other patio stores we felt we had seen a large sampling of design, price and quality.

California Patio was

...

by far the best combining outstanding quality in an American made patio set with the best design we saw all day and a price that was much lower than any of the other quality sets we saw.

To top it off our sales person, Jacquelyn, was as nice as could be and we later found out that she is part of the family owned business.

My wife and I were very happy to support this family business and get the perfect set for our needs. We will be back for more in the future and highly recommend that you go there as well.

Thank you Jacquelyn!

Sincerely,
Brian & Susan Hannigan

read more