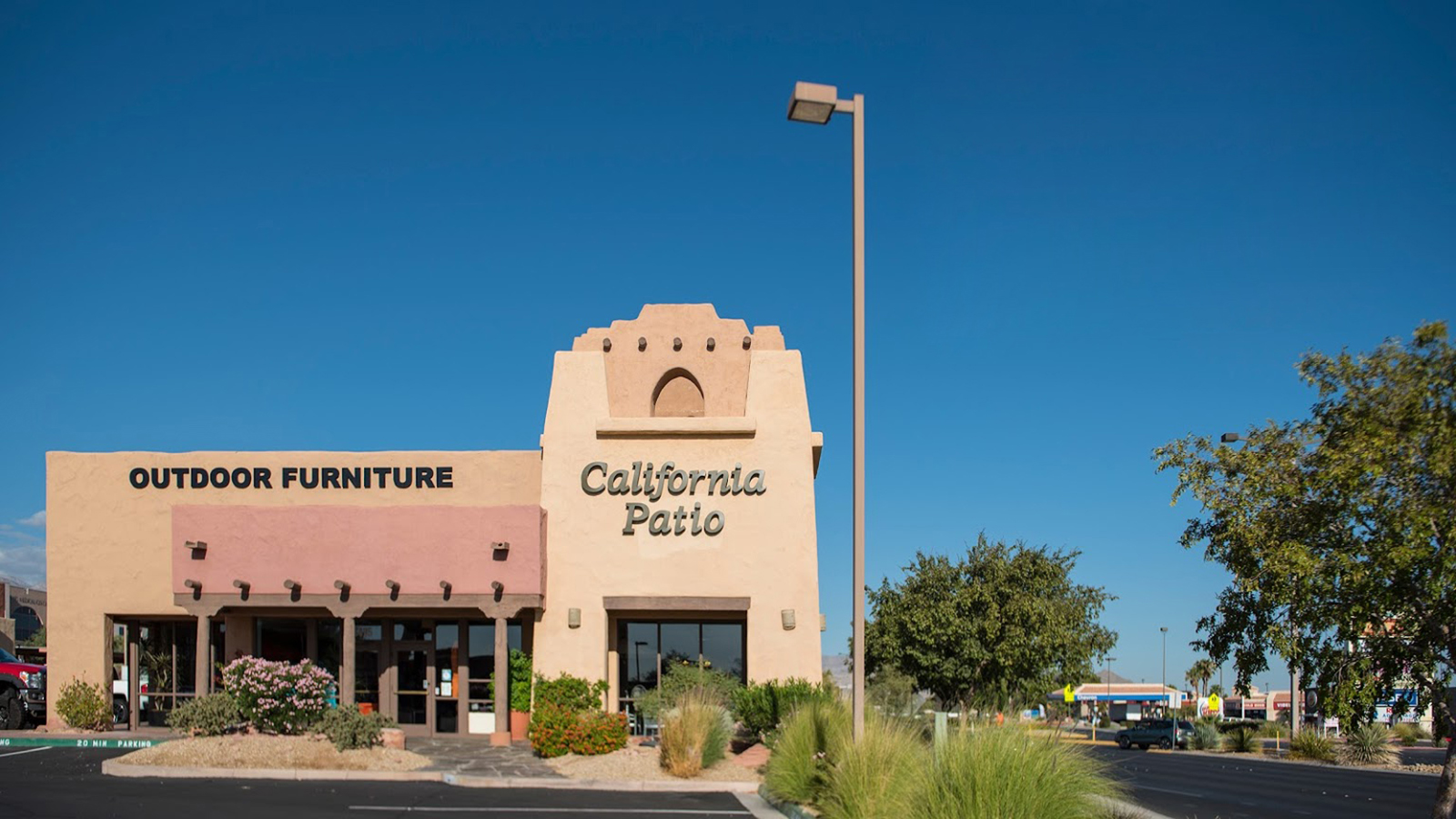 8475 W Lake Mead Blvd
Las Vegas, NV 89128
HOURS
Tuesday – Saturday: 10:00 AM – 5:00 PM
Sunday – 11:00 AM to 5:00 PM
Monday: Closed
Holiday Closures: Nov 23, Dec 24-25, Dec 31, Jan 1
Welcome to our Summerlin Showroom! We are a family-owned and operated business with almost four decades in business. We guarantee everyday low prices and the best selection of outdoor patio furniture, BBQ Grills & Accessories, Outdoor Kitchens that are readily available for delivery or pick up. We also offer custom options with a dedicated staff with years of knowledge to assist in making the best selection for your outdoor furniture needs.
Alexa was extremely helpful and knowledgeable regarding my purchase. She even provided information I had not considered. Thank you so much, see you

...

again soon.

read more
The person assisting us was very helpful. We were a little overwhelmed when we walked in but she was able to reduce the options down to manageable

...

choices based on our needs.The follow-up interactions were also very positive.It was a good experience; we look forward to our delivery.

read more
We arrived just before the store opened on Saturday. Chris was there; opened the door and let us in. He gave us free roam of the store and we zeroed

...

in on what actually brought us there. Patio umbrellas! We looked at everything he had: we asked questions; we tried to compare products and Chris gave us good information. His time and effort enabled us to say: this is what we want and this is the place we need to buy it from. Just a note: my wife and have a tendency to ask the same question - no, it is not a trick - but for the two or three times we did that (maybe one was intentional), Chris gave us the same answer! A very good job on his part, and we can't wait to see our patio umbrella in our backyard soon. Thanks, Chris…and thanks for warning us about the bees!

read more
Great selection and prices we live in California but purchased our patio furniture in Las Vegas, you had outstanding offers thanks
We bought a treasure garden umbrella and a rolling umbrella stand. Loved it so much we went back and bought another one. Chris was very helpful

...

answered all my questions.

read more
California Patio never disappoints. All furniture and supplies are high quality.
Great service and great people and products
Excellent processes and local team
Aleta was super helpful and When my furniture was delayed as everybody's is, they contacted me to keep me updated
Great place!! Lot's of selection and inventory in-stock. They explained the difference between the various brands and options so we could make an

...

informed decision. Highly recommend.

read more
Needed furniture for the backyard around the pool. Reasonably priced, good selection of items to fit our needs.
Awesome selection and great service, especially from the delivery crew!
Shawn was terrific to work with. We couldn't be happier with our purchase experience. I trust the delivery will be the same
Great service and follow up!
Very happy with the service and the explanation of the product we bought. Very helpful
Chris and Alita were awesome. Their customer service was above and beyond. I can't say enough good things of how Chris went out of his way to help us

...

with our new fire table. I would recommend them to everyone I know. Don't let the price discourage you from stopping by and looking at the high quality items California Patio has to offer.

read more
Nice inventory & friendly staff. Quick availability for orders.
We were in the market for outdoor furniture for our new pool. Very high quality furniture was available to choose from. It was difficult to chose

...

from the many nice pieces. The owners were very helpful from picking the ideal furniture to loading it in my truck. Came back the next week and bought more. 😀

read more
We were looking for a hard find pellet smoker and no hope to get one. They sold their floor model to us over the phone and held it for us. Thank you
Love this place. Great stuff and great people
It was nice, lots of patio furniture, grills,and umbrellas. The prices were high end.good quality and comfortably.
Fantastic service & selection from the sales floor (thank you, Jose!) to the delivery team. Jose was very helpful & instrumental in outfitting our

...

outdoor space. He listened to our design concerns & provided great suggestions & solutions. Each step from start to finish was flawless. We will continue to patronize CA Patio.

read more
Wouldn't buy from anywhere else. We drive from out of town to go here. Jose is the best salesman. They have helped us furnish our new backyard.
Jose was unbelievable in solving my warranty problem.
Dream patio! There's this hammock...wow. and lots of different table and chairs sets...stylish. Comfortable, durable, umbrellas galore, plus some

...

with built-in lighting, Bluetooth stereo system, headlamps.

read more
Just needed an umbrella. Great service and quick transaction.
Very cool Patio/Outdoor Furniture store!
Current Showroom Floor Collections