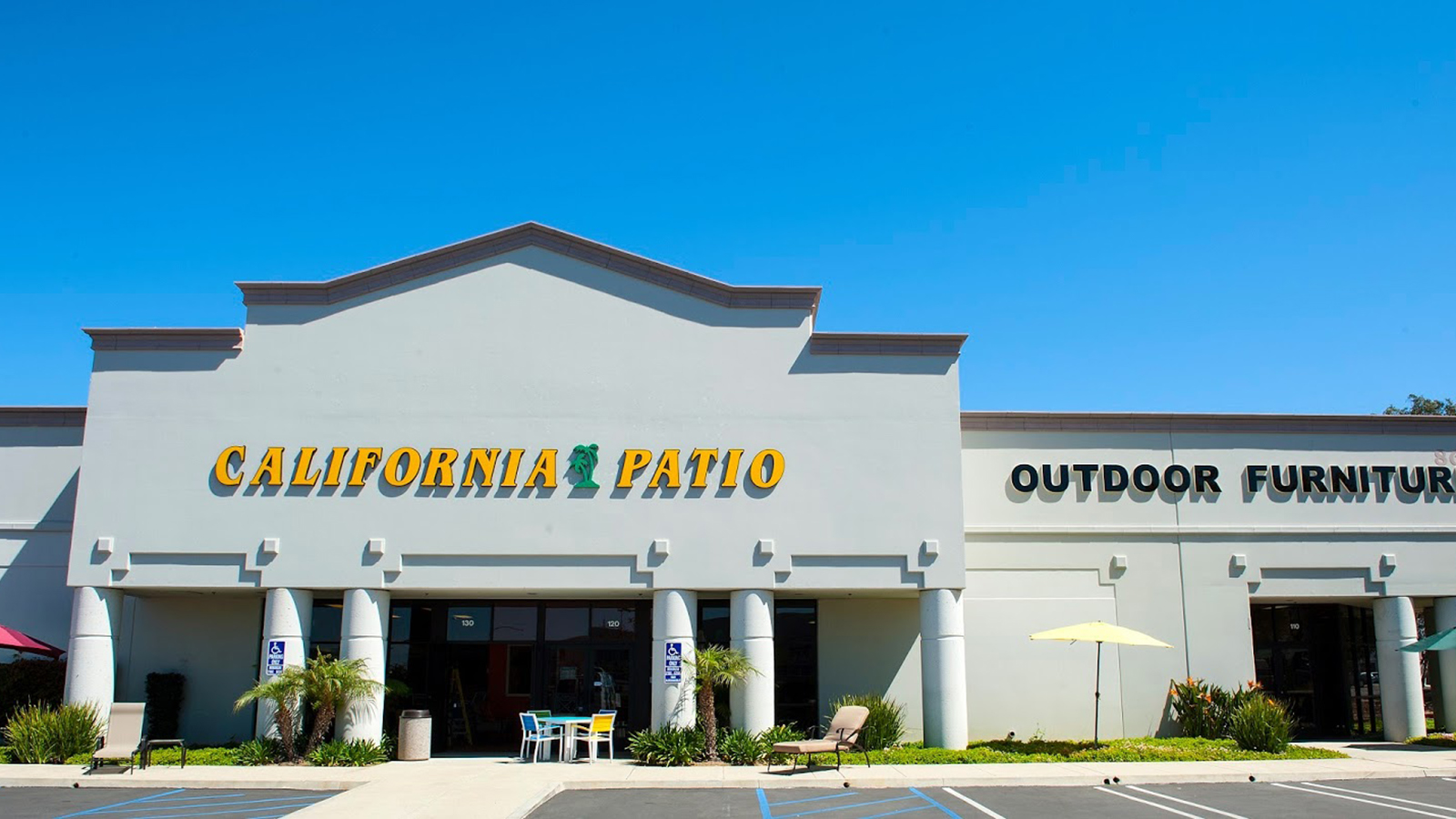 860 Los Vallecitos Blvd #120
San Marcos, CA 92069
HOURS
Monday, Tuesday, Friday, Saturday: 10:00 AM – 5:00 PM
Wednesday Thursday: 10:00 AM – 4:00 PM
Sunday – 11:00AM – 5:00PM
Welcome to our San Marcos Showroom! We are a family-owned and operated business with almost four decades in business. We guarantee everyday low prices and the best selection of outdoor patio furniture that is readily available for delivery or pick up. We also offer custom options with a dedicated staff with years of knowledge to assist in making the best selection for your outdoor furniture needs.
***Please Note: Our showrooms are constantly changing and the Google Street View Map may not be fully represent the current configuration***
Professional, knowledgeable of products and accommodating.
The delivery men were great and very helpful.
Excellent service, very helpful
We purchased outdoor furniture three years ago at California Patio that we are very pleased with. I wanted to purchase a rolling base for our

...

umbrella. The process was so quick and easy.Rosemarie, the salesperson was able to look up our previous order to match colors to know what we needed. The purchase and delivery was a smooth process.Excellent customer care. KBF

read more
California Patio always has what I'm looking for in stock and ready. Staff is always very nice and helpful.
A great selection with wonderful staff. Provided solid information to consider to make our decision. The delivery staff were fantastic as

...

well...smiling even after they carried the five pieces of furniture up our steep very long driveway to discover there was another steep incline with steps to get our new furniture to their resting spot! Couldn't be happier!

read more
Excellent staff, well knowledgeable.Price was great
This is the best place to get your outdoor patio furniture! Rosemarie knows the product and has excellent customer service skills. She will remember

...

your name after she meets you along with everyone you know who bought furniture at the store along with what they bought. The quality is top notch. I have Scheurman's Disease, a spinal deformity, and I can sit on their furniture for hours without it hurting my back. The delivery team is also very professional and punctual. You will pay a bit more than what you would pay at other places but you get what you pay for! Good quality furniture, excellent customer service, terrific delivery people, and no headaches. If you go to one of the cheaper furniture places like I regrettably did with some items, be prepared for headaches. You will not experience that with California Patio.

read more
Extremely helpful team! Helped me customize my order. Rosemarie was excellent at following up with me!
2 years ago, i bought chairs and a coffee table here. At the same time, i bought a dining table from Dixieline (was cheaper). today, the dining

...

table from DL is falling apart, and the coffee table from Ca Patio looks brand new still! i went back and bought a new dining table that matches the coffee table. I thought i was "saving" money buying the cheaper one from DL... that money is gone, and i have to pay to trash it 2 years later. CA Patio furniture lasts, and is WORTH the extra cost!

read more
Great selection and the staff really goes over and above to assure you get what you want.
Knowledgeable, friendly help. Long lead time disappointing.
Very professional staff! :-)
RoseMarie provided us with the most professional and courteous customer service! She accommodated us in all our furniture needs. Thank you for

...

everything!!

read more
Great selection, very helpful. Ended up leaving with a few new chairs and a table
Repeat customer, great service.Customer for life!!Keep up the great work!Ron Bruckel
Current Showroom Floor Collections
California Patio Featured Selections