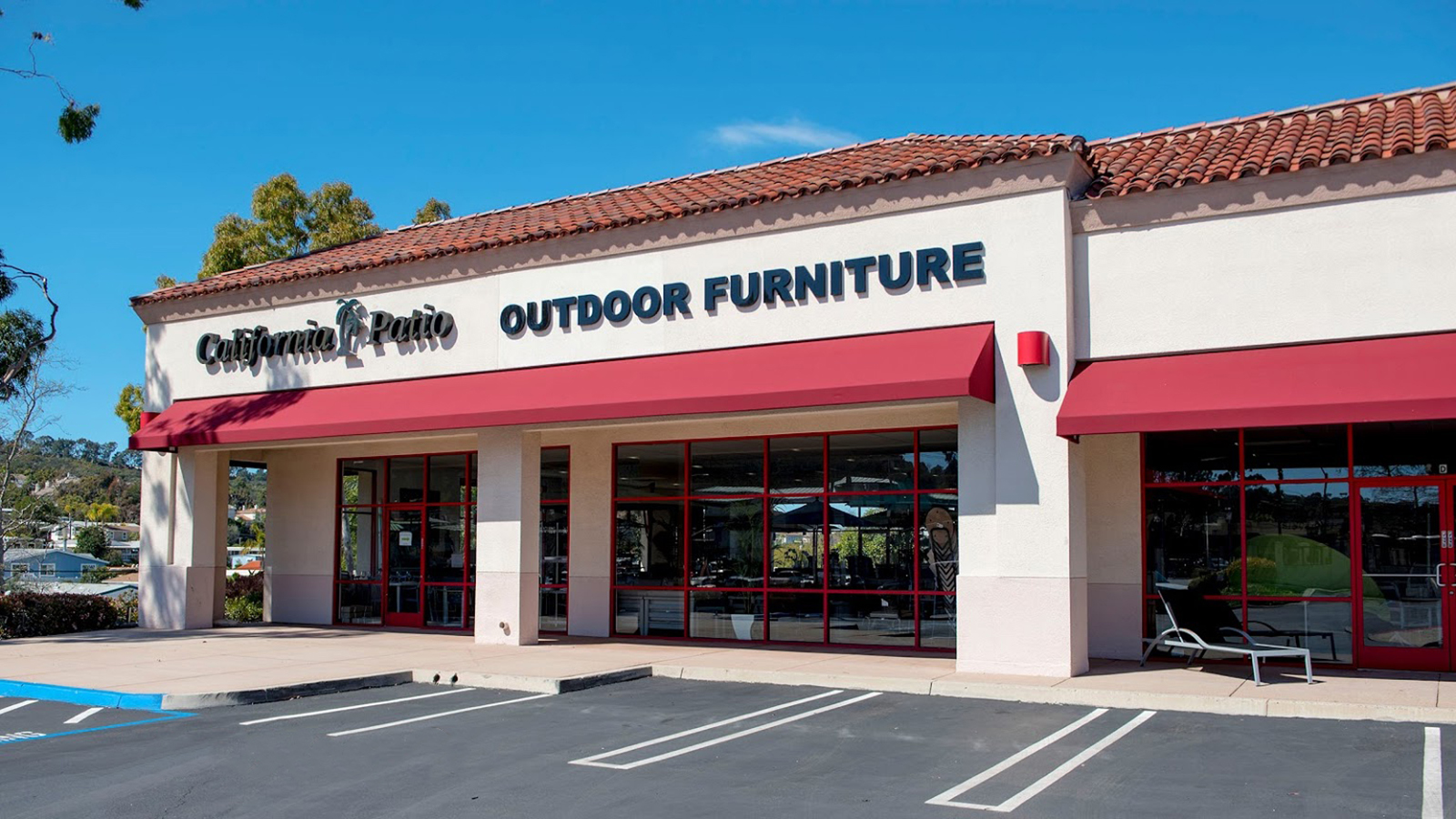 339 N El Camino Real
Encinitas, CA 92024
HOURS
Tuesday –  Saturday: 10:00 AM – 5:00 PM
Sunday-Monday: Closed
Welcome to our Encinitas Showroom! We are a family-owned and operated business with almost four decades in business. We guarantee everyday low prices and the best selection of outdoor patio furniture that is readily available for delivery or pick up. We also offer custom options with a dedicated staff with years of knowledge to assist in making the best selection for your outdoor furniture needs.
***Please Note: Our showrooms are constantly changing and the Google Street View Map may not be fully represent the current configuration***
I bought a two person slider from CA Patio which was getting delivered today. The truck showed up at my house and it was the wrong item. My chair was not on the truck. Within a half hour someone from CA Patio called me, apologized and told me that my chair would be delivered today. A couple hours later someone from CA Patio showed up in their personal truck and delivered my chair. They went above and beyond and not only do I have a great chair, but they provided the best service I have had in a long time. So I absolutely recommend CA Pation, not only do they have great outdoor furniture, they also provide awesome customer service. I would give them more than 5 stars if I could.
Vivian was very professional and knowledgeable…I bought the item I needed and was out the door in a few minutes!
Viviana was so knowledgeable and patient with me! Her customer service was 10/10! They even pricematched the heater I wanted (Bromic - just love it).
Love their chair cushions and their service! Thanks for the teamwork!
Friendly, truly quality products!We purchased quality patio furniture about 10 years ago and it's been in the sun, uncovered all that time. (San Diego)It looks great!! Not one wicker piece has broken, the pillows have held up well and we could not be happier that we invested up front to purchase from California Patio!
These guys give excellent customer service. I've used them for new cushions, a fire pit, and will order some new patio furniture from them.
I called to order new cushions for my outside patio 3 sectional couch. 1st after 10 years of the furniture being outside by the ocean…. It looks great and has held up. The wicker on the base hasn't cracked, separated nor lost any color from the sun. Nina was very responsive in getting me new cushions. I had washed the cushions many times during 10 years… and finally needed new covers. Best patio furniture I've ever bought. NINA communicated, was amiable and answered all of my questions. Efficient!Brooke
Great customer service! Had broken umbrella that needed to be repaired. Representative was able to pickup and order part replacement. Very attentive and accommodating to help resolve the issue. Thank you so much!
They were very professional and have a great selection of patio furniture Their umbrellas are made of 100% Sunbrella fabric so will last a long tome.
Great customer service, Colton went out of his way to get us what we needed to make an informed decision.
Good selection. Prices competitive. Quick delivery. All around Good experience.
We went in to purchase an umbrella base. Chris was extremely helpful. Made sure we were getting one heavy enough to work. It looks great and is the perfect size. He knows the products but is not at all pushy.
Easy process. Plenty of help but not at all pushy. Compared the prices and very competitive. High end products. Very happy.
So happy we found California Patio. Marissa was VERY HELPFUL every step of he way. Started with trying to just replace out 20 year old umbrellas with new coverings and ended up deciding to buy new ones...and a bunch of furniture too!!
California Patio offers high quality patio furniture and accessories with exceptional customer service. Marissa at the Encinitas store was helpful in picking fabrics, providing pricing, and followed up on every question I had. She made the entire purchasing process enjoyable and seamless. I highly recommend purchasing your outdoor furniture here.
Sales staff, Very Helpful 👍
I had a fantastic experience purchasing an outdoor electrical heater from California Patio. In essence, I bought a couple of hard to find heaters by contacting the Encinitas store. The heaters were in inventory up in San Juan Capistrano and I bought them but really needed them the next day. I live in San Diego and offered to drive up and get them. My friends at California Patio drove themselves (did not ship) and arranged for me to pick them up in Encinitas the next day. Incredible service...
We initially visited several area patio furniture stores, looking at inventory and discussing options with sales personnel. We ultimately selected California Patio Encinitas because of the obvious product quality and because of the exceptional service from salesperson Marissa Bandera. We placed our custom order (Marissa was great help with pattern selection!), and California Patio kept us up to date on the status right up to delivery. Delivery was "white glove" treatment; the guys were polite, professional and timely. Our new patio furniture looks and feels incredible! Two thumbs up all around with California Patio Encinitas!
We just purchased an outdoor dining table, 8 chairs, a love seat and two side chairs from this store. Everything was beautiful. Delivery was smooth and easy. Plus their texting option with the sales rep is really awesome. Ended up just buying an umbrella today too. Highly recommend this company and their products.
I was super impressed by the professionalism and follow-up of Chris Valenzuela. They had a good selection and a lot of quality products.
I worked with Chris Valenzuela and he helped me find exactly what I was looking for. He went above and beyond. Thanks Chris.
I ordered patio furniture replacement cushions during COVID. Some of the order was custom items and some of the manufacturers were closed or slowing their production during this time. Jacqueline from the San Juan Capistrano store took on my order and stayed on top of the communication throughout the waiting period.As it got closer to the expected delivery time she stayed in touch with the manufacturers on a daily basis and communicated to me even when she didn't have an update, so I would know she hadn't dropped the ball.It's rare to find individuals that take such pride in their work and follow-up and follow through to make sure the customer is never forgotten. I highly recommend this organization as a company that cares and will get the job done.
We are a 3 time customer over the past 10 years. We looked around but could not get another company to give us a price or follow up. Chris was our salesperson and got us all e needed. It's great to get price and service.Jerry
Chanelle has helped me on two different occasions with big backyard purchases. She is very knowledgable about the inventory and worked within my budget. Delivery was quick and easy and she even followed up to see if I was happy with my purchase! A great customer service touch!
Ordered a beautiful outdoor fire pit. Sales person dialed us in on the best unit with the btu that was right for us.". Choices of decorative glass were provided. Delivery upstairs was completed on the day promised (and old unit was taken away). Very satisfied.
Current Showroom Floor Collections