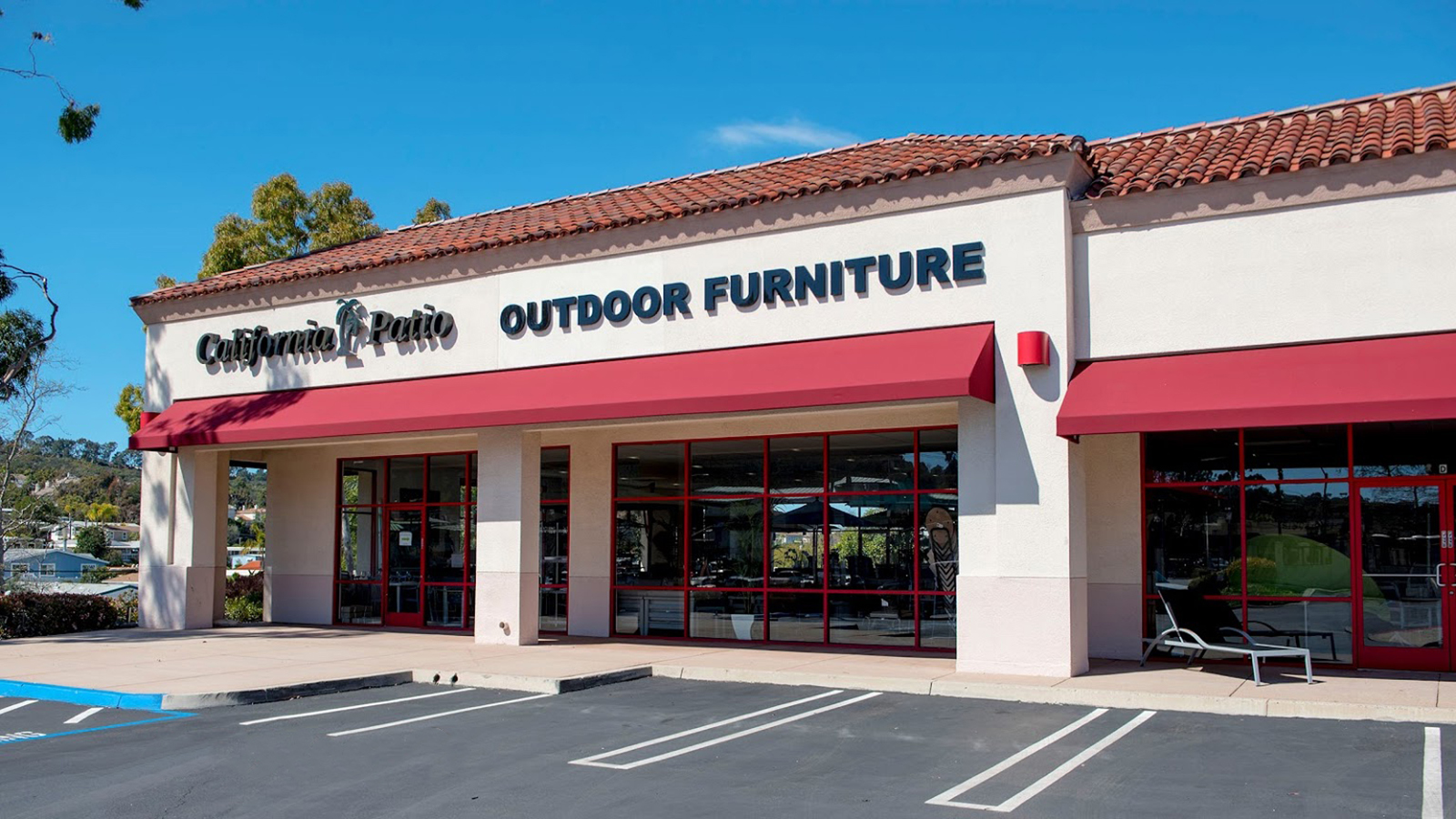 339 N El Camino Real
Encinitas, CA 92024
HOURS
Tuesday – Saturday: 10:00 AM – 5:00 PM
Sunday – Monday: Closed
Welcome to our Encinitas Showroom! We are a family-owned and operated business with almost four decades in business. We guarantee everyday low prices and the best selection of outdoor patio furniture that is readily available for delivery or pick up. We also offer custom options with a dedicated staff with years of knowledge to assist in making the best selection for your outdoor furniture needs.
***Please Note: Our showrooms are constantly changing and the Google Street View Map may not be fully represent the current configuration***
Austin could not have been more helpful. He knew his products, put things in the car for me, ordered another from a different location and it was there in 2 days. Very happy with all the beautiful things in the store.
Austin was very helpful and knowledgeable. So glad I chose Cali Patio!
Great in every aspect - service and quality.
Good pricing and excellent service. They made the experience easy and a pleasure.
My friend and I had a hugely fun time talking with the sales person and buying funny placard signs. He was just so enjoyable and the shopping experience was very positive!
The gent working the desk (all by himself, I might add) was fantastic- super helpful, no BS and didn't try to up-sale me, thanks! Will come back again!!!
Viviana helped us so many times to make our purchase.
I was treated with such kindness and respect in my search for the perfect umbrella! They made it fun and easy!
I bought a two person slider from CA Patio which was getting delivered today. The truck showed up at my house and it was the wrong item. My chair was not on the truck. Within a half hour someone from CA Patio called me, apologized and told me that my chair would be delivered today. A couple hours later someone from CA Patio showed up in their personal truck and delivered my chair. They went above and beyond and not only do I have a great chair, but they provided the best service I have had in a long time. So I absolutely recommend CA Pation, not only do they have great outdoor furniture, they also provide awesome customer service. I would give them more than 5 stars if I could.
Vivian was very professional and knowledgeable…I bought the item I needed and was out the door in a few minutes!
Viviana was so knowledgeable and patient with me! Her customer service was 10/10! They even pricematched the heater I wanted (Bromic - just love it).
Love their chair cushions and their service! Thanks for the teamwork!
Friendly, truly quality products!We purchased quality patio furniture about 10 years ago and it's been in the sun, uncovered all that time. (San Diego)It looks great!! Not one wicker piece has broken, the pillows have held up well and we could not be happier that we invested up front to purchase from California Patio!
These guys give excellent customer service. I've used them for new cushions, a fire pit, and will order some new patio furniture from them.
Great customer service! Had broken umbrella that needed to be repaired. Representative was able to pickup and order part replacement. Very attentive and accommodating to help resolve the issue. Thank you so much!
Current Showroom Floor Collections
California Patio Featured Selections