Guide to Outdoor Materials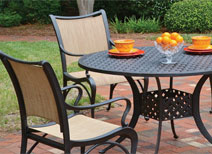 ALUMINUM
Aluminum is remarkable for the metal's low weight and its ability to resist corrosion. Aluminum furniture can be cold-extruded or cast. Cold Extrusion of Aluminum allows for light weight, high strength hollow frames that can be formed into an array of elegant outdoor designs. Cast Aluminum retains a high degree of durability, light weight and can be molded or "cast" into intricate designs and patterns. While it is not necessarily true that it will last as long as cast iron in some applications, aluminum products do tend to hold up well for a number of years.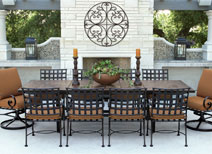 WROUGHT IRON
The term "Wrought" means "to work". Wrought iron furniture has a long history, dating back to Roman times. Wrought Iron collections are made of high strength alloys that are "worked" into intricate designs using heat and cold processing which helps to retain the strength and durability. While heavier than traditional Aluminum Alloy furniture, Wrought Iron collection stand the test of time with proper maintenance.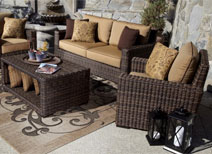 ALL WEATHER WEAVE (RESIN WICKER)
Woven Resin furniture is made from post recycled material and emulates the stylish natural wicker from the past. Manufactured from post -consumer recycled plastic materials, Resin furniture transforms landfill waste into modern & sleek All-Weather outdoor collections. It is durable, solid and resistant to mold, fungus and pests.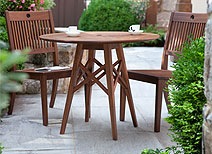 ECO-RESPONSIBLE HARDWOODS
Nothing beats the elegance that wood furniture adds to a space. The deep rich earth tones and natural textures add a depth to any design. We carry both Teak and Ipé Hardwoods – both responsibly farmed. Ipé (Ironwood) is a dense, dark colored hardwood that is popular in many outdoor applications due to it's life span, resistance to pests & fungus and Class A fire rating. Teak is the classic outdoor tropical wood. Teak's natural oils make it useful in exposed locations, and make the timber termite and pest resistant. Teak is durable even when not treated with oil or varnish.