Standard market umbrellas and cantilever umbrellas are both popular choices for shading and protecting your outdoor spaces from the sun and application will depend on the space it is to be used in. Solar radiation can dramatically change the temperatures of an object that it hits, heating it far above the actual air temperature. With proper shading, the temperature in that area can be reduced by up to 20% making a 95-degree day seem more like 80-degrees. Let's take a look at both options.
Outdoor Market Umbrellas:
Outdoor Market umbrellas are traditional umbrellas that typically have a central pole and a canopy that extends out from the pole to provide the shade. Constructed of materials such as aluminum, wood, or steel, these are available in a range of sizes, shapes, and colors. California Patio carries a wide selection of market umbrellas from the simple to the extravagant, residential to commercial grade, and in sizes from 6.5' to 11' and are covered in some of the most durable fabrics to include marine grade awning fabrics from Sunbrella©. However, with a center pole, it does limit the spaces and shade that is can provide and would be better suited for a dining area or pool side above dedicated seating.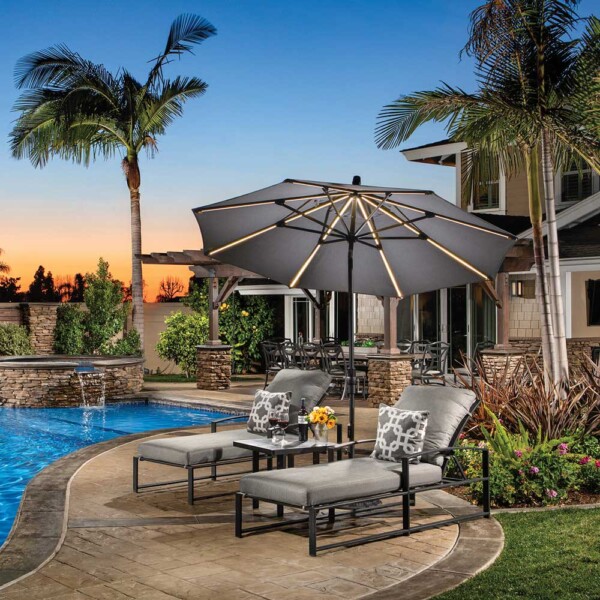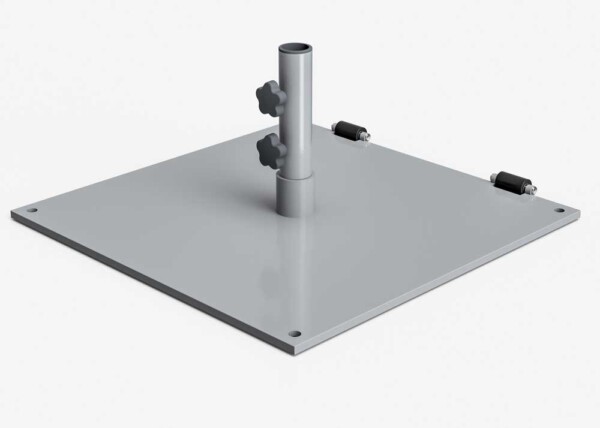 Any umbrella should be anchored properly and closed when not in used to protect it from damage. For umbrellas up to 9', we recommend bases starting at 50lbs and if you reside in a high wind-prone area, we recommend a minimum of an 80lbs base. Larger umbrellas will require different bases per the manufacturer recommendations to ensure it is stable. Also be sure to properly secure your umbrella pole into the base with the post screws to ensure it doesn't fly out. Some manufacturers also offer inground or deck mounts to properly secure your umbrella depending on your need. It should be noted, installing an umbrella into a patio table alone without a base can cause additional damage to your furniture and umbrella if the wind kicks up or the umbrella is moved around (e.g.: scratches on the table, broken glass top, etc.).
Cantilever Umbrellas:
Cantilever umbrellas, also known as offset umbrellas, are a flexible type of umbrella that feature an off-center pole and a canopy that extends out and over the space to be shaded. The pole is located to the side of the shaded area, which allows for more flexible placement of furniture and other objects underneath the umbrella. Cantilever umbrellas are often made from lightweight materials such as high strength aluminum and steel, and they come in a range of sizes, shapes and colors.
One of the biggest advantages of cantilever umbrellas is their flexibility. Because the pole is located to the side, it is much easier to adjust the umbrella to provide optimal shade coverage. Additionally, the off-center pole means that the shaded area is more open and unobstructed, which can be ideal for larger outdoor spaces or areas with lots of furniture.
Cantilevers can also come connected in some commercial settings commonly referred to as "Shade Pods" with two, three or even four cantilevers connected to maximize the shade square footage.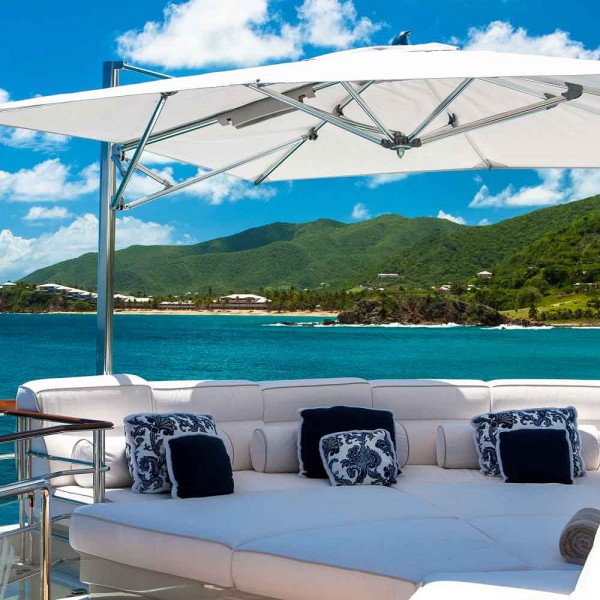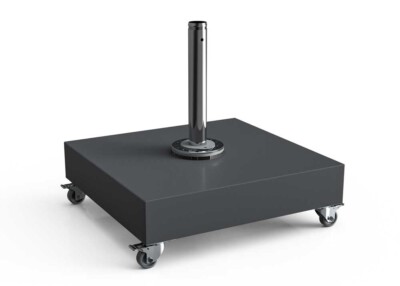 As with all umbrellas, cantilevers must be anchored properly either with an attached base or mounted in ground. Some bases come as steel plates or sand modules and proper installation of these is critical to keeping your cantilever upright. Some anchors start around 150lbs; all the way up to 950lbs for some commercial applications to properly secure the larger canopies. It is important to discuss the application with your sales representative to ensure you are getting the proper anchoring solution for your application.
A Note About Damage & Warranty:
Please keep in mind that damage caused by acts of nature (e.g.: High winds, severe weather, hail, etc.) are not considered defects, thus are not covered by manufactures warranties. Only structural defects and some fabric issues within a short period of time from purchase. (e.g.: extreme fading within a month or so) may be covered and is at the discretion of the manufacturer warranty process. You should always consult your umbrella brand warranty for more details and your salesperson should fully explain what is covered and not.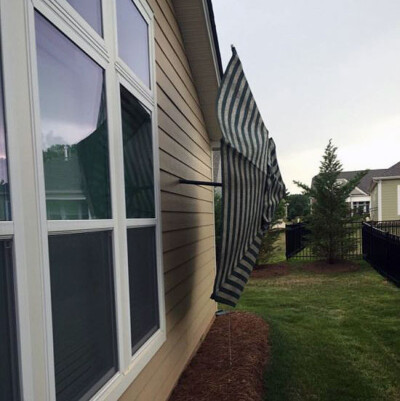 Overall, both outdoor umbrellas and cantilever umbrellas can be great choices for shading outdoor spaces. The choice between the two will depend on factors such as the size and shape of the space to be shaded, the amount of flexibility needed in adjusting the umbrella, and the budget available. Our knowledgeable staff is here to help you find the perfect umbrella to suit your needs. Visit us at your nearest California Patio location to see all the different styles and brands we have in stock.